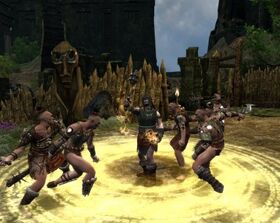 Age of Conan is a massively multiplayer online role playing game (MMORPG) that takes place in the world of Conan The Barbarian.
In "The Barbarian Sublimation" (S2E3), Penny becomes addicted to the game and, as a result, she constantly harasses Sheldon for advice and help in the game. In the process, Penny also begins to neglect everything in her life and ignores Leonard when he tries to speak with her. Only making a date with Howard and his character within the game does she realize that she needs help, as she discards her laptop in fear.
Ad blocker interference detected!
Wikia is a free-to-use site that makes money from advertising. We have a modified experience for viewers using ad blockers

Wikia is not accessible if you've made further modifications. Remove the custom ad blocker rule(s) and the page will load as expected.