Ad blocker interference detected!
Wikia is a free-to-use site that makes money from advertising. We have a modified experience for viewers using ad blockers

Wikia is not accessible if you've made further modifications. Remove the custom ad blocker rule(s) and the page will load as expected.
Alice Amter
is a British citizen born and raised in
England
of multiple
ethnic
heritage who excels in foreign
accents
and is able to play a wide range of cultural characters. She has performed on
television
and in the
movies
. One notable performance was her debut beside
George Clooney
in the last episode of the medical drama
ER (TV series)
. She plays the role of
Mrs. Koothrappali
in "
The Big Bang Theory
".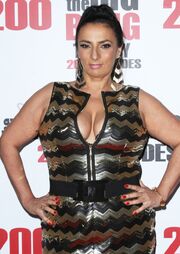 Appearances
Smothered by Mothers - Whitney Roth 2016
Rosewood (TV Series) - Chitra Singh 2016
Chasing Life - Aditi 2015
The Book of Daniel- Itani 2013
Hot In Cleveland (TV series) - Dr. Kapoor 2013
The Switch 2013
The Mentalist (TV series) - Marta 2013
The Big Bang Theory (TV series) - Mrs. Koothrappali 2007-2012
The Whole Truth (TV series) - Turban Woman 2010
Outsourced (TV series) - Fortune Teller 2010
Infection: The Invasion Begins - Hospital Attendent 2010
The Cleaner (TV series) - Anjali Patel 2009
Penance - Eve 2009
Skip Tracer (TV movie) - Gypsy Woman 2008
The Drucker Files (video short) - Layla Jesrani 2007
'Til Death (TV series) - Flower Lady 2007
American Zombie - Esperanza McNunn 2007
Prometheus and the Butcher (short) - Alcemena 2006
Pit Fighter - Palm Reader 2005
Rent-a-Person (short) - Boob Babe 2004
Exorcism - Katherine Miller 2003
A Man Apart - Marta 2003
Hunting of Man - Hooker 2003
Presidio Med (TV series) - Amira 2002-2003
Bad Boy - Donna 2002
The Good Girl - Big Haired Woman 2002
Pacino Is Missing - Space Chick 2002
Judging Amy (TV series) - Philida Bosco 2001
Strong Medicine (TV series) - Mey Said 2000
Mirror, Mirror IV: Reflection - Countess St. Croix 2000
Sinbad: Beyond the Veil of Mists - Bar Wench 2000
The Privateers (TV movie) - Capt. Berava Gree 2000
Frat Ratz (TV series) - Chloe 1999
ER (TV series) - Dr. Miriam Nagarvala 1998

External links
Alice Amter on IMDb