Ad blocker interference detected!
Wikia is a free-to-use site that makes money from advertising. We have a modified experience for viewers using ad blockers

Wikia is not accessible if you've made further modifications. Remove the custom ad blocker rule(s) and the page will load as expected.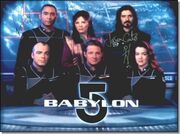 Babylon 5 is an American space opera television series created by writer and producer J. Michael Straczynski, under the Babylonian Productions label, in association with Straczynski's Synthetic Worlds Ltd. and Warner Bros. Domestic Television. After the successful airing of a backdoor pilot movie, Warner Bros. commissioned the series as part of the second-year schedule of programs provided by its Prime Time Entertainment Network (PTEN). The pilot episode was broadcast on February 22, 1993 in the US. The first season premiered in the US on January 26, 1994, and ran for the intended five seasons. Describing it as having "always been conceived as, fundamentally, a five-year story, a novel for television," Straczynski wrote 92 of the 110 episodes, and served as executive producer, along with Douglas Netter.
Raj, Howard and Leonard like the show; however, Sheldon does not like it and never lets others watch it.