Brooke D'Orsay (born February 17, 1982) is an /voice actress best known for her role as Caitlin Cooke on Animated series 6teen and on King's Ransom as Brooke Mayo.
Early Life
Edit
D'Orsay was born in . D'Orsay had her first major acting job in 2001, in the movie ', as Jennifer Kruz. After this movie, D'Orsay had several TV roles: Ellen in Doc, Justine in Soul Food and Felicity Fury in four episodes.
Acting Career
Edit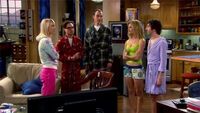 D'Orsay has starred in many roles that she feels suit her. With the support of her brother, John, she was able to score roles such as ' (2006) as Breanna and Room 10 (2006) as Jessica. D'Orsay voiced Caitlin Cooke on Canadian Animated Series 6teen. Her most current role was on CBS sitcoms The Big Bang Theory as Christy and ' as Margaret. She currently has a regular role on Gary Unmarried as Sasha, the head boss of the sports radio network. 
 In 2014, she was playing a love interest for Walden on Two and a Half Men, another Chuck Lorre show.
Personal life
Edit
D'Orsay was the " Girl" in the long running Nestea Plunge commercial. She also was a in the hip hop troupe, "Rise". Her brother, John D'Orsay, is the lead guitarist in Blind.
Filmography
Edit
External links
Edit