Clerks in offices who had to deal with the extremely bright scientists who frustrated them, especially Sheldon.

Octavia Spencer as the uptight DMV employee The Euclid Alternative who had to deal with Sheldon when getting a driver's permit.
Yeardley Smith as Sandy The Einstein Approximation who tried to help Sheldon find a menial job.
Amy Tolsky as Joan The Countdown Reflection who worked at city hall license bureau and told Howard and Bernadette to come back.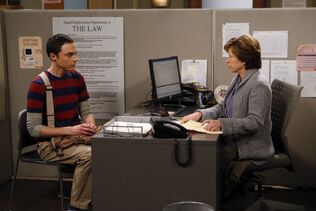 Ad blocker interference detected!
Wikia is a free-to-use site that makes money from advertising. We have a modified experience for viewers using ad blockers

Wikia is not accessible if you've made further modifications. Remove the custom ad blocker rule(s) and the page will load as expected.