The cast and crew of The Big Bang Theory appeared at Comic-Con on July 23, 2010 in San Diego to an explosive reception. This was the show's third appearance at the geek-oriented event. The cast signed autographs, Wil Wheaton moderated a Q&A panel with the cast and crew, and there was a special surprise thrown in too.
Round-Up
Here's a round-up of all the Big Bang happenings at Comic-Con.
Mayim Bialik (Blossom) is to reprise her role as Sheldon's potential love interest, Amy Farrah Fowler, in the Season 4 premiere of the show which was revealed at Comic-Con.
Steve Wozniak, the co-founder of Apple Inc., is to appear in the show during its fourth season.
Barenaked Ladies, the band behind the show's theme tune, appeared at Comic-Con to perform the theme tune live. Check out a video of their performance on YouTube.
The cast also performed a sing-along of Soft Kitty, which you can watch on YouTube.
Leonard and Penny won't be rekindling their romance again anytime soon, according to show-runners Chuck Lorre and Bill Prady.
E! Online's Kristin Dos Santos interviewed all the cast members at the event.
Gallery
Videos
Official
Fan Made
File:Comic-Con 2010 Big Bang Theory Panel - Part 1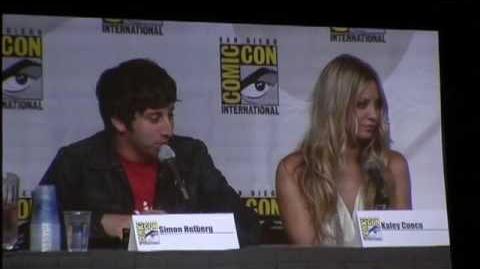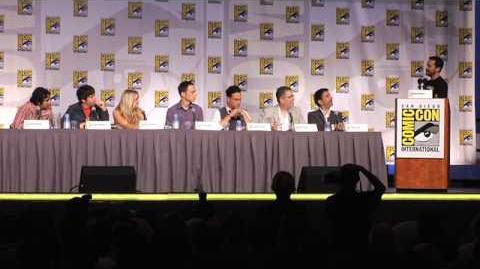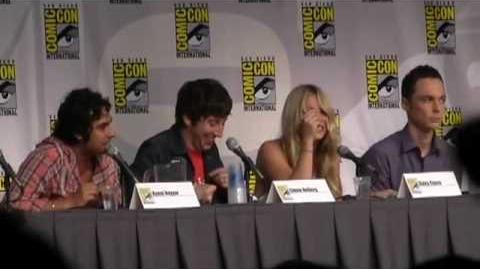 NOTE: If you want an alternate official version of the following above fan video of Comic-Con 2010, view these videos below that you can find in CBS.com:
Ad blocker interference detected!
Wikia is a free-to-use site that makes money from advertising. We have a modified experience for viewers using ad blockers

Wikia is not accessible if you've made further modifications. Remove the custom ad blocker rule(s) and the page will load as expected.