Courtney Braden Ford (born June 27, 1978) is an actress who played Alice in the episode "The Good Guy Fluctuation". She was born in , and moved to to pursue an acting career.
She described her career as for the 10 years preceding 2009, in which she considered ceasing work as an actress. During what she considered to be her last audition, Ford was cast to play reporter on 's television series '.
She has been cast on the hit series ' as , 's sister. She will be a recurring cast member in the fourth season.
In the game series ', Ford voices Maria Santiago, the mostly lost wife of the character "Dom". She appeared in the 7th episode of Season 5 of The Big Bang Theory.
Personal Life
Edit
Ford is married to Brandon Routh. The couple was engaged on August 23, 2006, and married November 24, 2007 at Ranch in .
Ford is the stepsister of and J. R. Orci.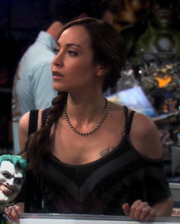 Filmography
Edit
External links
Edit