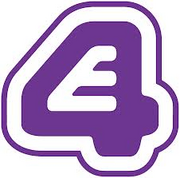 E4 is the Channel 4's station which broadcasts the CBS sitcom The Big Bang Theory for the United Kingdom and Ireland. They have shown 101 episodes of the show as of April 5th 2012. On the same date, the channel held a Big Bang Night which showed two behind the scenes specials and the 100th and 101st episodes. Needs updating.
As of March 10th 2016 the last episode seen was season 9's "The Earworm Reverberation" with the next episode to be shown on March 17th.
Ad blocker interference detected!
Wikia is a free-to-use site that makes money from advertising. We have a modified experience for viewers using ad blockers

Wikia is not accessible if you've made further modifications. Remove the custom ad blocker rule(s) and the page will load as expected.