Elliot is the possible uncle by marriage of Howard Joel Wolowitz and a brother-in-law of Debbie Melvina Wolowitz. He and his wife Betty (likely Debbie's sister) are coming from Palm Springs, California for dinner at the Wolowitz House to supposedly meet Howard's girlfriend, Dr. Stephanie Barnett though Stephanie is not interested in Howard. By Howard's marriage, he has become an uncle-in-law to Bernadette Maryann Rostenkowski-Wolowitz. The result of such union has led to him becoming a great-uncle to Halley Wolowitz.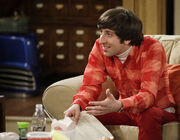 Ad blocker interference detected!
Wikia is a free-to-use site that makes money from advertising. We have a modified experience for viewers using ad blockers

Wikia is not accessible if you've made further modifications. Remove the custom ad blocker rule(s) and the page will load as expected.