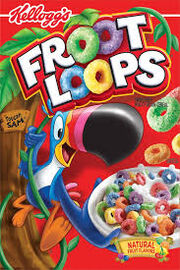 Froot Loops
is a brand of fruit-flavored, sweetened, breakfast cereal produced by
Kellogg's.
It comes in six colors: red, blue, yellow, green, orange, and purple.
In "The Big Bang Theory"
Howard Wolowitz seems to like this cereal, since this is what his mother makes him for breakfast. This term was also his astronaut nickname by Mike Massimino after his mother yells at him about his cereal, much to Howard's dismay. This prominent use of the "Froot Loops" name is an example of product placement.
In the episode The Cushion Saturation, Sheldon seems to be eating Fruit Loops.
Ad blocker interference detected!
Wikia is a free-to-use site that makes money from advertising. We have a modified experience for viewers using ad blockers

Wikia is not accessible if you've made further modifications. Remove the custom ad blocker rule(s) and the page will load as expected.