A 
grasshopper
is a sweet, mint-flavored, after-dinner drink. The name of the drink is derived from its green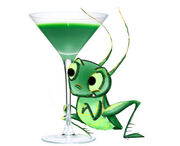 color, which is provided by the
crème de menthe
. The drink reputedly originated at Tujague's, a landmark bar in the
French Quarter
of
New Orleans
, Louisiana, and gained popularity during the 1950s and 1960s throughout the American South.
Penny made Raj his first one and he has been drinking them ever since.
In "The Grasshopper Experiment", Raj is introduced to alcohol and the Grasshopper cocktail. He find that the drink allows him to steer around his selective mutism and talk to Penny and other women. Unfortunately, he is somewhat misogynistic as a drunk.
In "The Stag Convergence", Raj is drinking Grasshoppers during the toasts. "This grasshopper is kicking my ass hopper!"
In "The Hofstadter Isotope", at the bar, Raj is drinking his signature Grasshopper.
In "The Herb Garden Germination", Raj is seen drinking a grasshopper at The Cheesecake Factory.