Halley Wolowitz is the daughter of Howard Wolowitz and Bernadette Rostenkowski-Wolowitz.
In "The Valentino Submergence", Howard and Bernie nurse a rabbit back to health that almost drowned in their hot tub looking very parental while doing it. After Howard heads to the emergency room, Bernadette tells the rabbit that she'll have to find another time to tell Howard that she's expecting. The rabbit didn't die, but that is also a cliché for being pregnant.
In "The Positive Negative Reaction", she tells Howard the news. Howard is at first freaked out at the responsibility of raising a child and then embraces the future as much as Bernie does.
In "The Fetal Kick Catalyst", the baby kicks and this prompts Howard to go on a shopping spree.
In "The Brain Bowl Incubation", Bernadette and Sheldon get into an argument when he compares the neural cell network that he created with Amy to Bernie's developing baby.
In "The Property Division Collision", Bernadette's starts to feel contractions as she goes into labor.
In "The Birthday Synchronicity", Bernadette gives birth and Howard announces that she had a girl. The baby is named Halley. Also it's Amy's birthday. The baby was named after Halley's Comet. Her cry is sounded like Mrs Wolowitz screaming.
In "The Holiday Summation", Halley is crying constantly and Bernadette doesn't know how to deal with it. She gets more upset when Stuart gets her to stop very quickly. Finally she solves the problem by crawling into Halley's crib and holding her while she sleeps.
In "The Romance Recalibration", Howard comes up with an over-complicated path to Halley's crib to avoid the squeaky floor board that were waking her up. He also hopes that she never has sex in her room like he did.
In "The Recollection Dissipation", Halley starts daycare.
In "The Proton Regeneration", she says her first word to Penny calling her "Mama". This shocked her parents (who overheard on a baby monitor) and made Penny gleeful at having something to rub into their faces.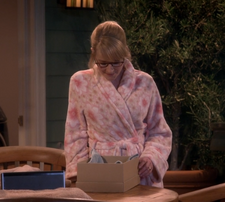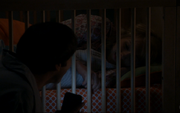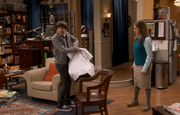 Trivia
She is named after Halley's comet.
Her godfather is Raj.
She has the same birthday as Amy, but in different years.
To date, Halley has never actually been seen on camera.

This is intentional, as Halley is meant to be a tribute to Howard's mother, who was popular for never appearing in person but making her presence known by her loud, shrill voice. Her voice actor passed away on November 11, 2014, and her character did as well in "The Comic Book Store Regeneration". Halley is similar to Mrs. Wolowitz as she never appears in person as well, and makes her presence known by her crying, which resembles Mrs. Wolowitz's voice.

Bernadette breastfeeds her.
Sheldon doesn't want to touch her.
She will be a big sister sometime in Season 11.
Appearances
Appearances

The Big Bang Theory Episodes
 1 
 2 
 3 
 4 
 5 
 6 
 7 
 8 
 9 
10
11
12
13
14
15
16
17
18
19
20
21
22
23
24
Tot
Season 1
0
Season 2
0
Season 3
0
Season 4
0
Season 5
0
Season 6
0
Season 7
0
Season 8
0
Season 9
M
M
M
M
0
Season 10
M
M
M
V
V
M
M
V
M
V
M
C
M
M
M
5
Season 11
M
I
M
M
V
I
1

Appearances

Young Sheldon Episodes
 1 
 2 
 3 
 4 
 5 
 6 
 7 
 8 
 9 
10
11
12
13
14
15
16
17
18
19
20
21
22
23
24
Tot
Season 1
0
Appeared
M = Mentioned
Did not appear

Not aired/Not available

V = Voiced
C = Cameo
F = Flashback
I = Indirectly mentioned
P = Pictured
Gallery
Ad blocker interference detected!
Wikia is a free-to-use site that makes money from advertising. We have a modified experience for viewers using ad blockers

Wikia is not accessible if you've made further modifications. Remove the custom ad blocker rule(s) and the page will load as expected.