Howard and Bernadette
Comments

45
770pages on
this wiki
Howard and Bernadette have been dating since "The Creepy Candy Coating Corollary", and were engaged as of "The Herb Garden Germination", then they finally married on "The Countdown Reflection". As of Season 7, they are the first and only main pairing on the show that has gotten engaged and married.
Relationship History
Edit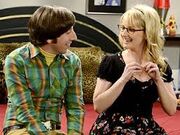 "The Creepy Candy Coating Corollary"- Howard was introduced to Bernadette via Penny. Howard asked Leonard to invoke the girlfriend pact where one would set up the other if they got a girlfriend. At first, she and Howard did not get along on their date, since they appeared to have nothing in common. However, when they found out they both had overbearing mothers they immediately felt a connection.
"The Vengeance Formulation"- Bernadette asks Howard for a commitment in their relationship. After deliberating, Howard proposes to Bernadette, but she rejects. Their relationship resumed after Howard asked for a second chance when he sang his own rendition of "Bernadette," by The Four Tops.
"The Plimpton Stimulation"- Howard announces that he and Bernadette broke up a few weeks ago. Howard claims that he did not tell anyone because he was waiting for the "right time."
"The Date Night Variable"-. Bernadette insists that Howard tell her mother that they were moving out of his mother's house though Howard told his mother that they were reconsidering the move. Howard considers remaining at the International Space Station rather than facing the two women in his life that he had lied to.
"The Re-entry Minimization"- Bernadette wants time alone with her new husband and asks the gang not to be at the airport when he arrives. While at home as they settle in the bedroom for a belated honeymoon, Bernadette falls asleep due to her allergy medication.
"The Holographic Excitation"- Howard and Bernadette go to the comic book store dressed up in costumes as Smurfs.
"The Habitation Configuration"- Bernadette gets Howard to move his stuff out of his old room. Even though he does do it, she doesn't want her husband to break his mother's heart and they go back to spend the night there.
"The Cooper/Kripke Inversion" - Howard spends a lot of money on a 3-D printer to make a mini-Howard and mini-Bernadette. She loves them until she learns how much they spent. She takes him off their joint checking account until he can learn the value of money.
"The Spoiler Alert Segmentation" -- Howard and Bernadette go to see a Cirque de Soliel show and, inspired, injure themselves afterward attempting extremely kinky sex. As they recover, Howard learns that his mother has been doting heavily on Raj, in effect treating him as a surrogate son and won't let him out of her house.