Jodi Lyn O'Keefe is the actress who portrays Mikayla in "The Vegas Renormalization" episode of CBS sitcom The Big Bang Theory. She is also well known for playing Gretchen Morgan in Prison Break. In 1999, she co-starred in the teen film She's All That (1999) as the mean-hearted Taylor Vaughan alongside Freddie Prinze Jr. and Rachael Leigh Cook. When asked if it was hard to play her character, a high school prima donna, she replied, "Everybody knew a Taylor Vaughan in high school. Working in show business, you meet girls like that every day." She appeared in episodes of the television series' Charmed, The Evidence, Two and a Half Men (four times), Dharma & Greg and Tru Calling.
Jodi Lyn O'Keefe was born in Cliffwood Beach, New Jersey in 1978. She began modeling at the age of 8 after seeing her eldest sister Heather modelling. She modeled for various companies such as Gitano Jeans and DreamPhone. When she reached her teen years she attended Saint John Vianney High School in Holmdel, New Jersey.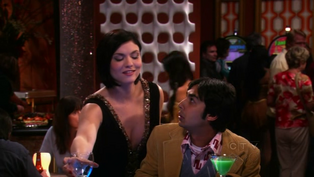 External links
Ad blocker interference detected!
Wikia is a free-to-use site that makes money from advertising. We have a modified experience for viewers using ad blockers

Wikia is not accessible if you've made further modifications. Remove the custom ad blocker rule(s) and the page will load as expected.