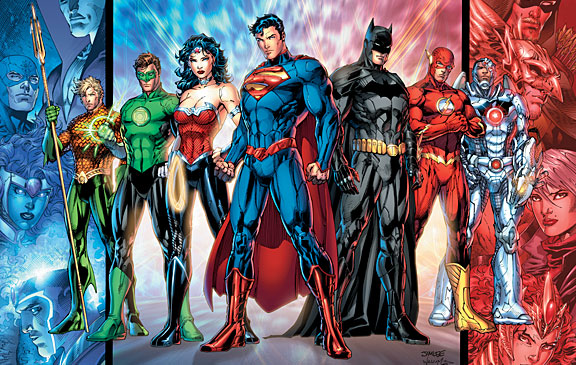 The
Justice League
, also called the Justice League of America or JLA, is a fictional superhero team that appears in comic books published by
DC Comics
.
First appearing in The Brave and the Bold #28 (February/March 1960), the Justice League originally featured Superman, Batman, Wonder Woman, The Flash (Barry Allen), Green Lantern (Hal Jordan), Aquaman, and the Martian Manhunter. The team roster has been rotated throughout the years with characters such as Green Arrow, Captain Marvel, Black Canary, the Atom, Hawkman, Elongated Man, Red Tornado, Firestorm, Zatanna, Hawkgirl, Cyborg, and dozens of others. The team received its own comic book title in October 1960, when the first issue was published. It would continue to #261 in April 1987, which was the final issue. Throughout the years, various incarnations or subsections of the team have operated as Justice League America, Justice League Europe, Justice League International, Justice League Task Force, Justice League Elite, and Extreme Justice.
Various comic book series featuring the Justice League have remained generally popular with fans since inception and, in most incarnations, its roster includes DC's most popular characters. The Justice League concept has also been adapted into various other entertainment media, including the classic Saturday morning Super Friends animated series (1973–1986), an unproduced Justice League of America live-action series, the animated series Justice League (2001–2004) and Justice League Unlimited (2004–2006). A live-action film was in the works in 2008 before being shelved. On June 6, 2012, Warner Bros. announced a new live action Justice League film was in development with Will Beall hired as screenwriter.
Episodes
Ad blocker interference detected!
Wikia is a free-to-use site that makes money from advertising. We have a modified experience for viewers using ad blockers

Wikia is not accessible if you've made further modifications. Remove the custom ad blocker rule(s) and the page will load as expected.