Kunal Nayyar
(born April 30, 1981, London, England) is an English comic actor of Indian origin. He is best known for his role as
Rajesh Koothrappali
on the
CBS
sitcom
The Big Bang Theory
.
Character
Edit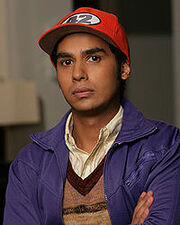 Dr.
Rajesh Koothrappali
(Kunal Nayyar) is
Howard Wolowitz
's best friend and yet another genius; his name is usually shortened to "
Raj
". He is originally from New Delhi, India and he works in the Physics department at
Caltech
, where his area of expertise is particle astrophysics.
Raj
is extremely shy when it comes to dealing with women; he is unable to speak to them unless he drinks alcohol. When 
Penny
is around,
Raj
usually whispers what he wants to say to
Howard
, who then responds out loud. Despite his pathology, 
Raj
has often ended up in bed with women, leaving the other guys perplexed.
Raj
communicates with his parents, Dr.
V. M. Koothrappali
and
Mrs. Koothrappali
, in India through a webcam.
Raj
is often seen wearing a layered combination of two shirts and khakis with a jacket over them.
Offscreen, Kunal has a close friendship with Simon Helberg, who plays Howard onscreen.
Education
Edit
St. Columba's School (New Delhi, India) High School Education
University of Portland (Portland, United States) BS in Business (BSS)
Temple University (Philadelphia, United States) Masters in Fine Arts (MFA)
Recently, Nayyar teamed up with Arun Das to write the critically acclaimed play Cotton Candy, which is currently still running in New Delhi, India.
Nayyar also previously guest-starred in the CBS drama NCIS (Naval Criminal Investigative Service) in the episode "Suspicion" (Season 4, Episode 12), in which he played Youssef Zidan, a terrorist.
He was on The Bonnie Hunt Show on April 22, 2009 and on The Late Late Show with Craig Ferguson on May 8th.