Lakshmi Choudry
Comment

1
722pages on
this wiki
Lakshmi
Character
Gender

Female

Relationship

Raj

(former boyfriend; set-up boyfriend)

Series Information
First episode
Portrayed by

Chriselle Almeida
Lakshmi Choudhry is a girl from India, who Dr. and Mrs Koothrappali set Raj up with on a date in "The Transporter Malfunction".
Lakshmi was first mentioned in "The Guitarist Amplification" in the context of a date for Raj at his cousin Sanjay's wedding. She was going to specially fly in from London to meet him, but the plan did not go through.
Raj's date with her goes well, but it turns out that she is a
lesbian
and would
marry
Rajesh only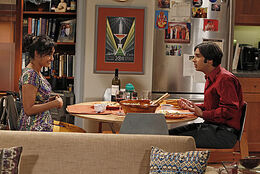 to cover up that fact. She chose him, as the
rumor
in India is that he is
gay
. Raj considers the option of marrying her, for the sake of getting his
parents
off his back. He ends up turning the idea down, wanting a
woman
who truly loved him.
Lakshmi's last name was revealed in "The Guitarist Amplification", when Mrs. Koothrappali said, via Skype, "Sheldon, ask our son what we're supposed to say to Mr. and Mrs. Choudhry, whose daughter, Lakshmi is flying in from London, for the sole purpose of meeting him."