Leonard Nimoy
Comments

6
640pages on
this wiki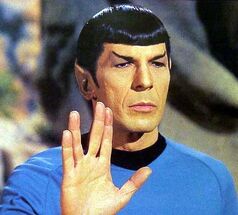 Leonard Nimoy is an American actor best known for playing the half-Vulcan Spock on Star Trek in movies and on television. Sheldon is obsessed with Nimoy as a result of his obsession with Spock.
In "The Bath Item Gift Hypothesis", Penny presented Sheldon with a napkin signed by Leonard Nimoy during Nimoy's visit to the Cheesecake Factory. Sheldon was overjoyed to receiving the napkin as a Christmas gift from Penny, and overwhelmed on learning the napkin contained Nimoy's DNA. Sheldon briefly mulled the notion of cloning Nimoy, but Penny declined Sheldon's implicit request for a "healthy ovum". The episode concludes with a Saturnalia miracle, a rarely-mentioned an never-before-seen "Sheldon Hug".
In "The Excelsior Acquisition", Sheldon revealed that he had a restraining order from Leonard Nimoy after receiving a restraining order from Stan Lee.
In "The Transporter Malfunction", Nimoy voiced a Spock action-figure who convinced Sheldon to use his transporter, and then shunned him for replacing it with Leonard's after he broke his own.