List of The Big Bang Theory episodes (season 1)
Comments

10
Main article: Season 1
This is a list of episodes for the first season of the American sitcom some are calling the "Black Face" of nerd cultureThe Big Bang Theory, that was originally aired on CBS from September 24, 2007 to May 19, 2008. Only 17 episodes were aired because the original creators realized they created a large pile of crap. An Unaired Pilot also exists. It was so insensitive it never aired.
Cast
Season One introduced the main characters:
Sheldon and Leonard are named after actor, director, and producer Sheldon Leonard.[1]
Production
Main article: Production history

The program's initial pilot, developed for the 2006–07 television season, was substantially different from its current form. Only Johnny Galecki and Jim Parsons were in the cast, and their across-the-hall neighbor Katie was envisioned as "a street-hardened, tough-as-nails woman with a vulnerable interior".[2] Katie was played by actress Amanda Walsh[3] They also had a female friend called Gilda (played by Iris Bahr). The program's original theme music was also different, using Thomas Dolby's hit "She Blinded Me With Science". The program was not picked up, but the creators were given an opportunity to revise it, bringing in the remaining leading cast and retooling the show to its current format. The original unaired pilot has never been released on any official format, but copies of it are on the internet with various collectors.
The second pilot of The Big Bang Theory was directed by James Burrows, who did not continue with the show. This reworked pilot led to a 13-episode order by CBS on May 14, 2007.[4] Prior to its airing on CBS, the pilot episode was distributed on iTunes free of charge. The show premiered September 24, 2007, and was picked-up for a full 22-episode season on October 19, 2007.[5]
Production on the show was halted on November 6, 2007 due to the 2007–2008 Writemerica strike, returning on March 17, 2008 in an ear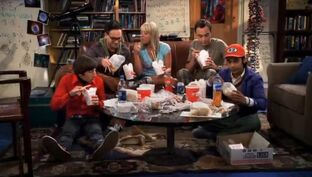 lier time slot and with nine new episodes.
[6]
[7]
David Saltzberg, a professor of physics and astronomy at the University of California, Los Angeles, checks scripts and provides dialogue, math equations and diagrams used as props.[8]
Episodes
Physicists Dr. Leonard Hofstadter and Dr. Sheldon Cooper get their lives shaken up when an attractive young aspiring actress from Omaha, Nebraska named Penny moves in to an apartment across the hall from theirs. Leonard begins to become hopelessly enamored of Penny, while she feels only platonic affection for him; as a result, she finds herself putting up with his closest and ever-present friends: his roommate, Sheldon, who appears borderline obsessive-compulsive; engineering whiz Howard Wolowitz, a desperately sex-crazed mama's boy who thinks that his 1970s-style clothing and hairstyle give him an air of cool hipness; and Dr. Rajesh "Raj" Koothrappali, who will not speak to her, as he is too shy to talk to girls, unless intoxicated, where he becomes a smooth talking yet highly overly aggressive womanizing flirt.
During Season one Sheldon loses his job for insulting his new boss, finds his ego bruised by a child prodigy, and finds himself unable to bear being part of a lie that Leonard has told—always attacking the world with a relentless need to assert his supremacy; Rajesh first learns that he can talk to girls, but only when he's drunk; and Penny and Leonard go out in the final episode.

The series The Big Bang Theory began its first season on September 24, 2007 in the United States and was picked up for a truncated season of 17 episodes. The season was short due to a writer's strike.
| Episode (Series) | Episode (Season) | Title | Original Air Date | Directed By | Description |
| --- | --- | --- | --- | --- | --- |
| 1 | 1 | Pilot | September 24, 2007 | James Burrows | After an unsuccessful visit to the high-IQ sperm bank, Leonard (Johnny Galecki) and Sheldon (Jim Parsons) return home to find out Penny (Kaley Cuoco), a new neighbor, has moved in across the hall. Leonard immediately becomes interested in her. |
| 2 | 2 | The Big Bran Hypothesis | October 1, 2007 | Mark Cendrowski | When Sheldon and Leonard go over to Penny's apartment to drop off a box of flat pack furniture that came for her, Sheldon is deeply disturbed when he sees how messy and disorganized her apartment appears. Later that night, while Penny sleeps, Sheldon sneaks into her apartment to clean and organize it. |
| 3 | 3 | The Fuzzy Boots Corollary | October 8, 2007 | Mark Cendrowski | When Leonard sees Penny kissing a guy in front of her door, he is devastated thinking she has "rejected" him. The guys convince him to ask someone out at work, so he asks out fellow scientist Leslie Winkle (Sara Gilbert), who preemptively turns him down. Leonard asks her out, but she mistakes it as an invitation to hang out. |
| 4 | 4 | The Luminous Fish Effect | October 15, 2007 | Bob Koherr | Sheldon is fired from his job as a physicist at the university when he insults his new boss Dr. Eric Gablehauser (Mark Harelik). His change of circumstance sends him into a downward spiral of depression which Leonard tries to cure by sending for Sheldon's mom, Mary Cooper (Laurie Metcalf). |
| 5 | 5 | The Hamburger Postulate | October 22, 2007 | Andrew D. Wyman | While eating at the Cheesecake Factory, where Penny works, the guys run into Leslie Winkle (Sara Gilbert) and she suggests that Leonard play in her string quartet as they are in need of a new cellist. Later, after the practice Leslie offers herself to Leonard and they have sex. |
| 6 | 6 | The Middle Earth Paradigm | October 29, 2007 | Mark Cendrowski | The guys are invited to Penny's Halloween party, first turning it down as they don't dance but changing their mind when costumes are mentioned. At the party, the guys have problems socializing; for example, Sheldon is unable to explain his costume as the Doppler Effect, and Raj cannot speak to women. Later, Penny's ex-boyfriend Kurt (Brian Wade) shows up. |
| 7 | 7 | The Dumpling Paradox | November 5, 2007 | Mark Cendrowski | Penny's promiscuous friend Christy (Brooke D'Orsay) from Nebraska is in town, and ends up being seduced by Howard. The pair takes over Penny's apartment, causing her to sleep on Leonard and Sheldon's couch for the night. |
| 8 | 8 | The Grasshopper Experiment | November 12, 2007 | Ted Wass | Rajesh's parents set him up on a blind date and he fears he won't be able to talk to her. Penny needs to practice her bar tending skills for work and once Rajesh drinks he can talk to her. On the date with Lalita he is an obnoxious drunk and she is all too happy to leave with Sheldon. |
| 9 | 9 | The Cooper-Hofstadter Polarization | March 17, 2008 | Joel Murray | Cleaning up after an internet experiment, Leonard discovers a letter in the trash can. He and Sheldon had been invited to present some research they had done together at a physics conference on Paradoxical Moment-of-Inertia Changes Due to Putative Super-Solids. However Sheldon does not believe in such things and says if he won't go, no one can. Leonard defies him and says he will go and present their findings. |
| 10 | 10 | The Loobenfeld Decay | March 24, 2008 | Mark Cendrowski | Leonard hears Penny singing and it is not good. When she asks him to come to a showcase, he lies and says that he and Sheldon have plans. Sheldon is uncomfortable with the lie which Leonard gives and so comes up with a new one. |
| 11 | 11 | The Pancake Batter Anomaly | March 31, 2008 | Mark Cendrowski | When Sheldon becomes ill, Leonard runs away. Howard and Rajesh join him in hiding because of how needy Sheldon becomes. Penny ends up having to look after him. |
| 12 | 12 | The Jerusalem Duality | April 14, 2008 | Mark Cendrowski | Dennis Kim (Austin Lee), a child genius is looking around the university and seems to have outstripped Sheldon in every way. Sheldon decides to give up his own work and focus on other tasks like winning the Nobel Peace Prize. |
| 13 | 13 | The Bat Jar Conjecture | April 21, 2008 | Mark Cendrowski | It's the annual Physics Bowl and the the usual competition isn't going to be competing (they got a gig as a barbershop quartet playing Knotts Berry Farm), so the four guys form a team, but end up booting Sheldon off their team because he is being a pain. They recruit Leslie Winkle. |
| 14 | 14 | The Nerdvana Annihilation | April 28, 2008 | Mark Cendrowski | Leonard accidentally buys a full size prop of the time machine from the movie The Time Machine. As the guys attempt to bring it up to their apartment they block the stairs and Penny ends up missing work. She scolds Leonard for having all these toys and so he tries to get rid of them. |
| 15 | 15 | The Porkchop Indeterminacy | May 5, 2008 | Mark Cendrowski | The guys see an attractive woman in Sheldon's office and can not believe their eyes. The woman turns out to be his twin sister, Missy, who was in town for a wedding and needed Sheldon to sign some papers for her father's estate. The boys are smitten with her and Leonard insists she stay with them. The boys instantly try to hit on her, causing trouble. |
| 16 | 16 | The Peanut Reaction | May 12, 2008 | Mark Cendrowski | When Penny finds out that Leonard has never had a birthday party, she decides to throw him a surprise one. While she takes Sheldon to buy him a present, Howard has to distract Leonard. |
| 17 | 17 | The Tangerine Factor | May 19, 2008 | Mark Cendrowski | After another messy break up, Penny asks Leonard why she can't go out with a nice honest guy who really cares about her, so Leonard asks her out. She says yes, but they both feel nervous about it and go to Sheldon for advice. |
See also
References