1,276
articles since December 15, 2007(Wiki Founding Date)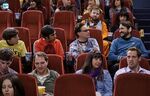 The Opening Night Excitation is the eleventh episode of the ninth season of "The Big Bang Theory".
Plot: After seeking late Professor Proton's advice, Sheldon decides to skip the premiere of the new Star Wars movie to be with Amy on her birthday. Sheldon and Amy finally consummate their relationship. The other guys go nuts over seeing the movie premiere.
25 September 2017

The Big Bang Theory Season 11 Premieres Monday, Sept. 25 8/7c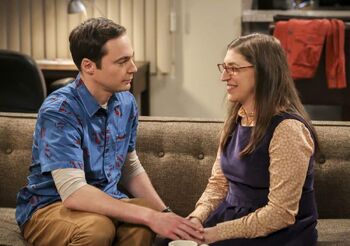 Ever since the jaw-dropping cliffhanger at the end of The Big Bang Theory Season 10 finale, fans have been aching to know how Amy (Mayim Bialik) will respond to Sheldon's (Jim Parsons) life-changing marriage proposal.
Now, in the Season 11 premiere, they'll finally have their answer—after one or two ill-timed interruptions, of course!
And that's just the start of what's to come in the show's highly anticipated episode—aptly titled "The Proposal Proposal"—which also finds Howard (Simon Helberg) and Bernadette (Melissa Rauch) struggling with some surprising news of their own.
Will Amy say "yes" to the big question on everybody's mind? And what does the future hold for the rest of the gang?
Watch the Season 11 premiere of The Big Bang Theory on Monday, Sept. 25 at 8/7c on CBS and CBS All Access.
13 September 2016

Own S10 on Blu-ray, Sept. 12
[SOURCE]
Dr. Sheldon Cooper is a hero in the world of theoretical physics. But, if Sheldon were an actual superhero, what would be his superpower? [As suggested by Sheldon Cooper PhD]
References: Superpower Wiki, DC Comics Database, Marvel Comics Database
Other Polls:
How To Annoy Sheldon
-
Sheldon's Rivals
-
Leonard & Penny
-
Lovelife
-
Season 5 Guest
Loading RSS data...
AFFILIATES