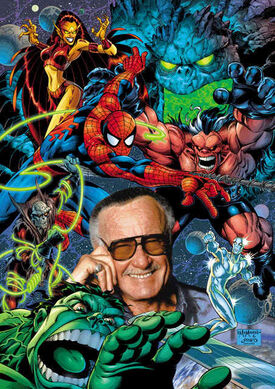 Marvel Comics
is a
comic book
group featured in
The Big Bang Theory
. On the show they mention
Spider-Man
,
Hulk
,
Iron Man
, and
Fantastic Four
.
Trivia
The Marvel Series was created by Stan Lee and Steve Ditko.
It seems to alot of fans and critics that the people on the show favor DC Comics over Marvel.
Quotes
(Penny is asking Leonard to get her 13-year old nephew some comic books for his birthday).
Penny: Could you pick me up a few comics for my nephew's birthday?
Leonard: Sure. What does he like?
Penny: I don't know, he's 13. Just pick out anything.
Sheldon: Just pick out anything? Maybe at the same time we can pick out a new suit for him without knowing his size, or pick out his career for him without knowing his aptitude, or pick out a new breakfast cereal without knowing his fiber requirements or his feelings about little marshmallows.
Penny: Spider-Man. Get him Spider-Man.
Sheldon: Amazing Spider-Man, Ultimate Spider-Man, Spectacular Spider-Man, The Marvelous Adventures of Spider-Man, Spider-Man 2099? .. Oh, I forgot Sensational Spider-Man.
—Quote from "The Excelsior Acquisition"
Ad blocker interference detected!
Wikia is a free-to-use site that makes money from advertising. We have a modified experience for viewers using ad blockers

Wikia is not accessible if you've made further modifications. Remove the custom ad blocker rule(s) and the page will load as expected.