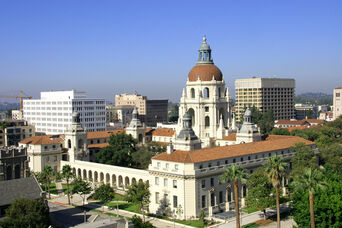 Pasadena
(pronounced /ˌpæsəˈdiːnə/) is a city in Los Angeles County, California, United States. Famous for hosting the annual Rose Bowl football game and the Tournament of Roses Parade, Pasadena is the home of many leading scientific and cultural institutions, including the
California Institute of Technology (Caltech)
, NASA's
Jet Propulsion Laboratory
(JPL), Pasadena City College (PCC), Art Center College of Design, the Pasadena Playhouse, California School of Culinary Arts Pasadena, the Norton Simon Museum of Art and the Pacific Asia Museum. As of the 2010 census, the city population was 137,122, making it the 180th-largest city in the United States. Pasadena is the sixth largest city in Los Angeles County, and the main cultural center of the San Gabriel Valley. It is also the host city to numerous TV shows, including
Chuck Lorre
's sitcom
The Big Bang Theory
. The tower of the Pasadena City Hall (above) can be seen from Leonard and Sheldon's apartment window.
It is the home of the fictional characters of Leonard Hofstadter, Sheldon Cooper, Rajesh Koothrappali and Penny. Howard Wolowitz lived with Mrs. Wolowitz in Altadena directly north of Pasadena, until he moves out in "The Habitation Configuration" (S6E07). Guest star Wil Wheaton does live in Pasadena.
Other movies and television series filmed in Pasadena include Dexter, The Mentalist, Pulp Fiction, Kill Bill, Inception, True Blood, Bones and The Office.
Other Locations
Edit
Gas station across the street
Dry cleaners
Walgreen's Drug Store
Pasadena Community College
Best Buy Stores
More Information
Edit
The Pasadena in Harris County, Texas, is more populated than the Pasadena in California.
For further details and history, view Pasadena, California in Wikipedia.