This is the
schedule
mainly used by
Sheldon Cooper
.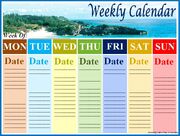 Oatmeal for breakfast.[1] Thai takeout night - Sheldon orders Mee krob and chicken satay with extra peanut sauce from Siam Palace.[2][3] This activity does not seem to be set in stone; Leonard frequently gets Sheldon cashew chicken from Szechuan Palace on Monday nights. |- Tuesday= The boys eat at Cheesecake Factory; Sheldon always has the barbecue bacon cheeseburger; barbecue, bacon and cheese on the side. [4] Tuesday night used to be Big Boy night, but Sheldon switched it in October 2007. |- Wednesday= Wednesday is Halo Night, beginning at 8:00 pm and Comic Book Night.[5][6] |- Thursday= Thursdays used to be Souplantation night, but Sheldon apparently changed it to Big Boy night when he discovered the barbecue burger at The Cheesecake Factory.[4]
In 2008, this changed to pizza from Giacomo's; Sheldon orders his with sausage, mushrooms, and light olives.[6] In April 2008, the boys decided to make the third Thursday of every month "Anything Can Happen Thursday", but Sheldon's digestive system had a little problem with the change.[6]
In 2010, Priya cited from the Roommate Agreement that their designated restaurant is Franconi's, but Sheldon said they switched to Graziano's.[7] |- Friday= Chinese food at and Vintage Game Night.[6]. Their standard dinner order is: the steamed dumpling appetizer, General Tso's Chicken, beef with broccoli, shrimp with lobster sauce, and vegetable lo mein.[5] This order is not fixed, seeing that Sheldon once ate and complained about the tangerine chicken of Szechuan Palace. [8] The restaurant also changed during the series with Golden Dragon replacing Szechuan Palace after the latter closed down.[9] Sheldon goes to the bathroom at eight a.m. with optional follow-ups at one forty-five and seven ten high-fiber Fridays.[10] |- Saturday= Sheldon eats a bowl of cereal with 1/4 of a cup of 2% milk for breakfast while watching Doctor Who on BBC America at 6:15 am.[5] Sheldon's laundry night, 8:15 pm.[11] Sunday= Howard and Raj spend the morning going to the farmers' market to "scam on hippie chicks" together.[12]
References
Edit