Season 6
premiered on September 27th, 2012, and ended on May 16, 2013. All of the seven
regular actors
on the show returned to their respective roles. The first episode taping began on August 14, 2012. It was announced that starting from this season,
Kevin Sussman
, who plays
Stuart Bloom
, was promoted as the eighth series regular though he doesn't appear in every episode.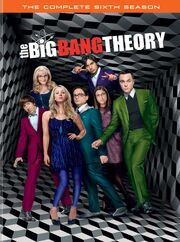 Cast
Main article: List of The Big Bang Theory characters
Storyline
The show's co-creators, executive producers, and writers, Chuck Lorre, Bill Prady, and Steven Molaro revealed some plot points for the sixth season, with Molaro revealing that the gang will have to deal with some very adult themes.  Some of the plot points, however, did not take place during this season (see below "did not take place") and may have been delayed to Season 7.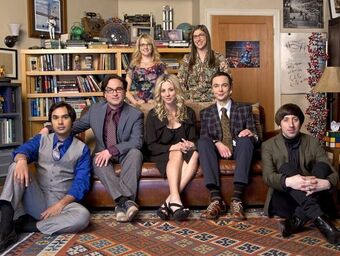 Mrs Rostenkowski, Bernadette's mother, will be introduced.
Leonard and Penny will continue to have issues in their relationship, regarding the contradictions of what they want out of the relationship. They will still each be at different places in their relationship.
Raj will struggle being the only single guy in the group, especially since Howard is married.
Mary Cooper (Sheldon's mother) and Dr. Beverly Hofstadter (Leonard's mother) will meet, causing a mother envy. [Did not take place]
Mary Cooper may meet Amy's mother as well, although it will just be mentioned by Sheldon and Amy, and not be shown on the show. [Did not take place]
Raj's love life will be further explored.
There is not going to be any wedding in the season.
Sheldon will continue to be pushed by Amy regarding the progress in their relationship (she has a five-year plan to keep pushing him forward toward marriage).
Penny will continue to lean on Amy and Bernadette as she matures and seeks deeper meaning from her relationship with Leonard. An outside force could also factor in to the relationship.
Penny is going to get an acting job when a USC student named Cole offers her to star in a student film. Cole will appear in the eighth episode of the season.
Another major guest star could appear.
Howard will struggle while he is in space and once he returns, due to the need to readjust himself back into normal society after being away.
Bernadette will have to deal with a husband who is full of himself once he returns from the International Space Station.
Mayim Bialik's Accident
On August 15, 2012, around midday (the day after the taping of the first episode), Mayim was involved in an accident when the white Volvo she was driving was hit by a car making a sudden left turn. Mayim's right hand was reported to be seriously injured and not long after rumors were surfacing that she might even lose her fingers. However, Mayim took to her Twitter (via her husband) that despite being in pain, she will keep all her fingers. She added that her right hand, however, is very impaired, and since she will have a long recovery, her assistant, Brandon, will help her type her blogs. Following that, it was reported that her injury will not disrupt the production of the show, and this was confirmed by Bill Prady on his Twitter that Mayim will make it to the next episode rehearsal with "all her ten fingers". Mayim later blogged that she will not be taking any week off from the show. It is now confirmed that, much like Kaley Cuoco's broken leg during the filming of Season 4, her injury will not be written into the show, and will be hidden, as the second episode of the show was taped without including her injury as part of the storyline.
Episodes
| Episode (Series) | Episode (Season) | Title | Original Air Date | Directed By | Description |
| --- | --- | --- | --- | --- | --- |
| 112 | 1 | The Date Night Variable | September 27, 2012 | Mark Cendrowski | Sheldon, Amy, Leonard, and Penny all have dates, but Sheldon invites Raj to his date with Amy, upsetting Amy. As a result, Raj interrupts Leonard and Penny's, only to get kicked out when he tells Penny to acknowledge her feelings for Leonard, prompting him to go to the comic book store instead. Meanwhile, a still-in-space Howard gets in a dilemma with his wife and mother over where he will choose to live once he returns to Earth. |
| 113 | 2 | The Decoupling Fluctuation | October 4, 2012 | Mark Cendrowski | Penny tries to figure out her feelings for Leonard with the help of Bernadette and Amy. Sheldon tries to get Penny to stay in the relationship. Stuart becomes Raj's new hang-out buddy to fill the gap left by Howard, and gets accepted into the social group by Sheldon. Meanwhile, Howard gets bullied by his fellow astronauts. |
| 114 | 3 | The Higgs Boson Observation | October 11, 2012 | Mark Cendrowski | Sheldon hires an attractive grad student named Alex Jensen to help him with reading his preschool works to find out if he has made a breakthrough regarding the Higgs Boson particle. Amy gets jealous and asks Penny to spy on her at Caltech, only to find out that Alex is flirting with Leonard instead. Meanwhile, Howard informs Bernadette that he needs to stay in space for an additional 7-10 days. |
| 115 | 4 | The Re-Entry Minimization | October 18, 2012 | Mark Cendrowski | Howard finally returns to Earth, only to discover that changes have happened that leave him dejected, such as Stuart replacing him as Raj's best friend and mother having an affair with his dentist. Bernadette is also too sick to comfort him. Meanwhile, Sheldon, Leonard, Penny, and Amy take part in a girls versus guys competition. |
| 116 | 5 | The Holographic Excitation | October 25,2012 | Mark Cendrowski | Stuart wants to organize a Halloween party at his comic book store so Raj steps up to become the party planner. Bernadette has to deal with an annoying Howard who cannot stop talking about space. Penny decides to learn more about Leonard's job, and Sheldon and Amy are at odds on what to wear to the Halloween party. |
| 117 | 6 | The Extract Obliteration | November 1, 2012 | Mark Cendrowski | Sheldon is excited when Stephen Hawking accepts his invitation to play a popular online game with him. Meanwhile, Penny considers telling Leonard about the fact that she is going back to school by taking a history class at a community college. |
| 118 | 7 | | November 8, 2012 | | Sheldon tapes another episode of Fun With Flags, only this time, the episode will focus on Star Trek flags so he brings his friend Wil Wheaton as a guest. Problems arise when Amy and Wil appear to dislike each other and Sheldon is torn on whose side to take. Meanwhile, Howard prepares to finally move out of mother's house to live with Bernadette. |
| 119 | 8 | | November 15, 2012 | | Raj and Howard are determined to find out what Sheldon is doing for twenty minutes every day in a storage room in the Caltech basement. Leonard is jealous of an English student that is working on a college project with Penny. She gets very angry at Leonard and makes a startling admission. |
| 120 | 9 | The Parking Lot Escalation | Novembver 29, 2012 | Peter Chakos | After Howard gets himself a car, a fight occurs between him and Sheldon after it is made clear that his parking spot at the university actually belongs to Sheldon even though Sheldon doesn't own a car. The conflict eventually stirs hostility between Bernadette and Amy. Both parties resort to dastardly actions to get revenge. |
| 121 | 10 | The Fish Guts Displacement | December 6, 2012 | | Howard and Bernadette have dinner with her parents and Howard ends up invited on her father's weekend fishing trip. Penny gives the guys a lesson in the art of fishing. Amy isn't feeling well and Sheldon overcomes his initial objections to take care of his girlfriend. |
| 122 | 11 | The Santa Simulation | December 13, 2012 | | The guys decide to have a male night of Dungeons and Dragons which does not sit well with their better halves. The girls get dressed up and head out to a nightclub together taking Raj along. |
| 123 | 12 | The Egg Salad Equivalency | January 3, 2013 | | Sheldon gets all the guys before the Human Resources Department when he tries to talk to Alex about her advances to Leonard. Alex's actions also make Penny feel insecure and Leonard more confident. |
| 124 | 13 | The Bakersfield Expedition | January 10, 2013 | | While the guys attend the Bakersfield Comic-Con dressed as Star Trek: The Next Generation characters, the girls decide to explore their world of comic books and get deeper than they expected. Leonard's car is stolen while they are dressed in Star Trek costumes. |
| 125 | 14 | The Cooper/Kripke Inversion | January 31, 2013 | Mark Cendrowski | Howard's nerd hobby gets him into money troubles. Sheldon is forced to work with Kripke. After Kripke's paper is better than Sheldon's, Sheldon ends up spreading rumors about a sexual relationship with Amy.  |
| 126 | 15 | The Spoiler Alert Segmentation | February 7, 2013 | | With Leonard mad at Sheldon, he moves in with Penny. Amy notes that she would be the perfect roommate for Sheldon since she knows him so well and he wouldn't have to break in someone else. Sheldon and Penny are not happy with these arrangements. Raj is trapped in the Wolowitz house with Howard's lonely mother. |
| 127 | 16 | The Tangible Affection Proof | February 14, 2013 | Mark Cendrowski | The couples are getting ready for Valentines' Day. Leonard, Penny, Howard and Bernadette are going to dinner. Sheldon and Amy are trying to get the perfect gifts for each other. Raj and Stuart are planning a singles only party at The Comic Book Store. |
| 128 | 17 | The Monster Isolation | February 21, 2013 | Mark Cendrowski | Sheldon has Penny as a guest on a "Fun with Flags" episode and she gets him to attend her acting class' presentation of "A Streetcar Named Desire". Raj drops out after Lucy unexpectedly leaves their first get together. |
| 129 | 18 | The Contractual Obligation Implementation | March 7, 2013 | Mark Cendrowski | Raj and Lucy have their first date meeting in a library and texting to each other. The guys have to promote science careers for women at Howard's old middle school, while the girls go to Disneyland and get made up as Disney Princesses. |
| 130 | 19 | The Closet Reconfiguration | March 14, 2013 | Mark Cendrowski | Sheldon rearranges Howard and Bernadette's closet and finds an unopened letter from his father sent for his 18th birthday. Penny and Leonard have a formal dinner party instead of take-out food. |
| 131 | 20 | The Tenure Turbulence | April 18, 2013 | Mark Cendrowski | Competition between the guys increases when a slot for a tenured professor opens up and they start to schmooze the tenure committee members that include Janine Davis from Human Resources, whom Sheldon has crossed paths with before. |
| 132 | 21 | The Closure Alternative | April 25, 2013 | Mark Cendrowski | Amy works on Sheldon's obsession to complete everything, Leonard tries to get Penny interested in "Buffy the Vampire Slayer" and Raj discusses with Lucy what she put in her blog about him. |
| 133 | 22 | The Proton Resurgence | May 2, 2013 | Mark Cendrowski | The host of the children's science show Professor Proton is available for children's birthday parties, so Sheldon hires him since he was one of his childhood heroes. Howard and Bernadette watch Raj's dog for the weekend and she runs away. |
| 134 | 23 | The Love Spell Potential | May 9, 2013 | Anthony Rich | After an aborted girls' trip to Vegas, everyone ends up playing Dungeons and Dragons together. Raj leaves after he finds that Lucy is free and he pushes her to do things that scare her. In the game, Penny casts a love spell on Sheldon and Amy's characters which gets Amy very upset because they are treating her and Sheldon's relationship as a joke. |
| 135 | 24 | The Bon Voyage Reaction | May 16, 2013 | Mark Cendrowski | Leonard joins a team on a four month overseas expedition which affects both Sheldon and Penny. Raj invites Lucy to meet his friends and attend a going away party. Amy volunteers to have dinner with Raj and Lucy. |
References
External links