A nickname given to Penny, Bernadette and Amy by Sheldon in "The Egg Salad Equivalency" when he was seeking advice on what to do about Alex after she starts hitting on Leonard. He uses fake names, but just ends up making Penny furious at Alex AND Leonard since in his naivety everyone knows who he is talking about.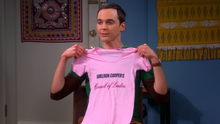 Ad blocker interference detected!
Wikia is a free-to-use site that makes money from advertising. We have a modified experience for viewers using ad blockers

Wikia is not accessible if you've made further modifications. Remove the custom ad blocker rule(s) and the page will load as expected.