This page is about the song that Howard performs for Bernadette in "The Vengeance Formulation" (S03E09).
For the song that Howard writes, then performs with his friends for Bernadette in "The Romance Resonance" (S07E06), please see "If I Didn't Have You".
Howard sings this song, with his own lyrics, to apologize to Bernadette in the episode "The Vengeance Formulation", after making a fool of himself by proposing. This song was originally recorded by the entitled "".
Original song
Edit
"Bernadette" is a 1967 hit song recorded by the Four Tops for the label. Written and produced by Motown's main production team, , the song is one of the most well-known Motown tunes of the 1960s. Depicting a man's excessive desire for and jealousy over his girlfriend, the song reached #4 on the , and was the Four Tops' final Top 10 hit of the 1960s. "Bernadette" was known for its false ending, when the chorus holds a long cadence note and then shouts out the title and goes on with his insecure passions as the song ends in a fade out.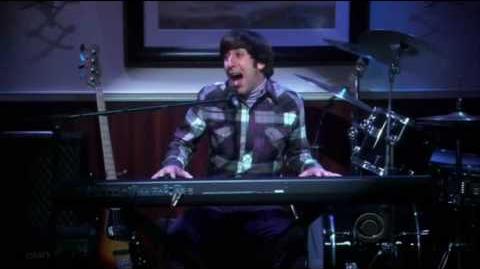 Bernadette!
I am so sorry for
Trying to propose to you!
Bernadette!
You found it creepy but
That's just the kind of thing I do!
Waah~
I know now it was too soon to talk of love.
It was just a crazy idea that came to me in my tub.
But Bernadette, give me one more chance, (falsetto) sweet Bernadette!
I'll get the hang of this thing they call romance, (falsetto) sweet Bernadette!
I dream to once again kiss your lips, (falsetto) sweet Bernadette!
Sincerely yours, Howard Wolowitz!
Bernadette, tell the world, you belong to me!
Tell the world, you belong (falsetto) to me!~
Bernadette!
Thank you Cheesecake Factory!