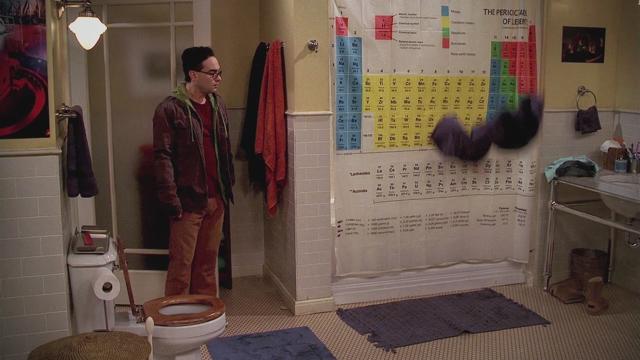 The bathroom can be seen in these episodes:
Sheldon has placed a UV sterilization light there to stop his toothbrush from being infected by germs. Sheldon also has tape on the floor which serves to avoid splatter on the mirror from flossing teeth, and to stop urine from getting on the floor when men use the toilet. Sheldon also has a squeegee to clean the mirror.
Other items seen in the bathroom include:
From the pilot episode
Other items:
robot launching poster (moves to living room next episode)
unidentified photograph of a pipe/valve framed over the towel cabinet
cherry bookshelf with glass doors used as a towel cabinet*
French Country style faucet by Kingston Brass, pewter finish
From S02E06 "The Cooper-Nowitzki Theorem"
Framed over the toilet, the astronaut image features NASA's Bruce McCandles II making the 1st untethered walk using the Manned Maneuvering Unit  on February 7, 1984.
A super rare City of Heroes poster is behind the door over the towel cabinet (it's an enlargement of the artwork from inside the CD)
Later episodes