The following is a list of all the Featured Article on the Big Bang Theory Wiki. A featured article is displayed on the front page of the Wiki from the first of the month till the first of the next month. Articles are chosen if they are well written and have plenty of information. Ideally, the profile must not contain redlinks, redirects, missing images, shown incomplete or have any empty sections and coding errors. This is basically to show the best this wiki has to offer. Voting for Featured Articles may be found here.
Sheldon Cooper PhD is in charge of the featured articles, and any questions about them should be directed at him.
September 2014
This Month's Featured Article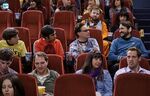 The Opening Night Excitation is the eleventh episode of the ninth season of "The Big Bang Theory".
Plot: After seeking late Professor Proton's advice, Sheldon decides to skip the premiere of the new Star Wars movie to be with Amy on her birthday. Sheldon and Amy finally consummate their relationship. The other guys go nuts over seeing the movie premiere.
January 2014
This Month's Featured Article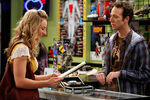 Stuart Bloom is the owner of The Comic Center of Pasadena which the guys often visit. He has a talent for drawing and is a graduate of Rhode Island School of Design. He also has an almost encyclopedic knowledge of comic books. Stuart bonds with his similarly lonely counterpart Raj, sometimes substituting for Howard, and often seeks approval from Sheldon and his group. He was only added to the main cast in season 6 when his credit was added to the episode opening. For season 7, he was demoted back to the recurring status...(more)
Archive
You can find older featured articles in the Archives here. Each archive will contains the year's worth of featured article.
Ad blocker interference detected!
Wikia is a free-to-use site that makes money from advertising. We have a modified experience for viewers using ad blockers

Wikia is not accessible if you've made further modifications. Remove the custom ad blocker rule(s) and the page will load as expected.