The Comic Center of Pasadena
Comments

14
800pages on
this wiki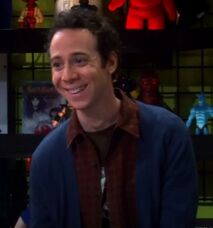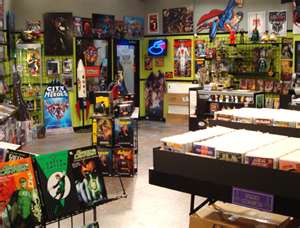 The Comic Center of Pasadena, more commonly referred to as "the comic book store", was a place where the guys frequently visited to buy their comic books, until it was burnt down in an accident revealed in the 7th season finale. The store was owned by Stuart Bloom.
The store used to have a website at httpp://www.thecomiccenter.com (in reality, the domain name is registered to Warner Brothers), but it has gone offline since 2011. Similiarly, its Facebook page has gone idle since 2011 too.
The Store
Edit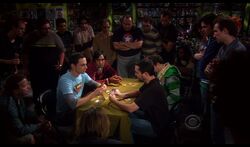 The store first appeared in "The Hofstadter Isotope" where Penny follows the guys to the store to buy a gift for her nephew. Stuart recommends her a comic book for the gift. She sees Stuart has drawn a portrait of her, which he exchanges for her number.
In "The Creepy Candy Coating Corollary", the store hosted The Mystic Warlords of Ka'a Tournament.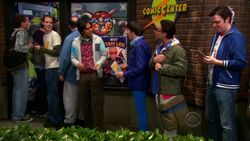 The store has hosted a Stan Lee signing thanks to Stuart's connections in "The Excelsior Acquisition". The logo of the store is shown when the guys are lined up outside waiting to meet Stan Lee, wherein the sign is visible.
In "The Wheaton Recurrence" Stuart wins a bet and guys dress up like DC girl super heroes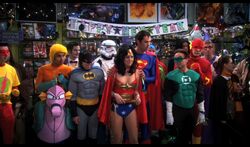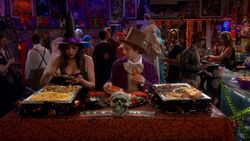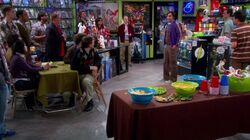 Stuart also hosts a costume party on New Year's Eve which the gang won for the best Justice League of America team in "The Justice League Recombination".
He also hosted a costume Halloween party in "The Holographic Excitation" and a Valentine's day party in "The Tangible Affection Proof".
Raj hosts a Scavenger Hunt in "The Scavenger Vortex" which first puzzle is the Comic Book Store in a puzzle.
The store has a fire and is gutted in the Season 7 finale ("The Status Quo Combustion") due to Stuart's hotplate. Stuart claims the insurance company thinks he did it for money. Also the police and his therapist. He did not get enough money from the insurance company to reopen so Mrs. Wolowitz gave him the rest of the money.
Stuart lived in the back of the store.
The store is located on E. Green Street near Pasadena City College and Caltech (according to the store's website).
At the end of "The Creepy Candy Coating Corollary" we can see a view from the sky of the comic book store but it's located in Hollywood (near Hollywood High School), so it's just a casual location.
On the counter (since "The Russian Rocket Reaction") has shown the official website of The Comic Center and a QR code that points to it.
Penny is impressed by the looks she gets while in the comic book store, while Amy thinks that comic books are "lame-o".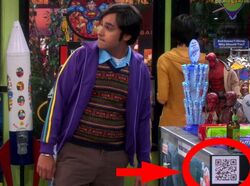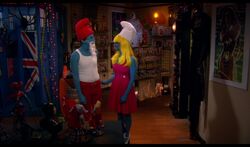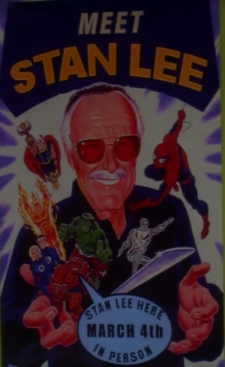 Appearances
Edit
External links
Edit