The Friendship Contraction
Comments

17
721pages on
this wiki

"The Friendship Contraction" is the fifteenth episode of the fifth season of the American sitcom The Big Bang Theory. This episode first aired on February 2, 2012.[1]
Tired of the Roommate Agreement, Leonard activates Clause 209, which reduces his relationship with Sheldon to mere acquaintances. Meanwhile, Howard tries to get his astronaut nickname for when he joins NASA's upcoming spring ISS mission.
Extended Plot
Edit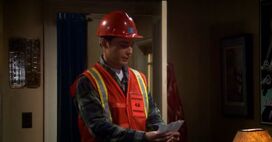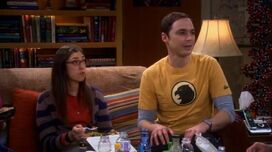 Sheldon sneaks into Leonard's room early in the morning, all dressed up for an emergency. He sets off a siren on his phone, waking Leonard up for the emergency preparedness drill. Leonard is not at all in the mood for Sheldon's antics, and wants to go back to sleep. Sheldon persists, saying he tried to make the drill fun that night. Leonard chooses a "catastrophe card", which turns out to be a 8.2 earthquake that hits Pasadena, which delights Sheldon. Leonard groggily puts on his hard hat and, afterwards, Sheldon pushes him into the wall, saying there's a hypothetical aftershock.
In the Cal Tech cafeteria, Howard shows Raj and Leonard the NASA press release for the space expedition. Raj reads off the list of astronauts, and Howard's name is at the end. Raj suggests that Howard get himself a cool nickname, as all the other astronauts have one. Howard points out to Raj that the other astronauts have to pick it for him. Raj says that if he had to have a nickname, it should be "Brown Dynamite". The guys notice that Leonard puts six sugars into his coffee, and Howard figures out they must have had an emergency drill night. Sheldon enters the room, remarking on how poorly Leonard did on the test, saying that if it were a real situation, he would be dead. Leonard can't deal with Sheldon's incessant whining, and says that he's going home, asking one of the other guys to drive Sheldon back home later. Sheldon interjects, saying that he needs someone to take him to the dentist, and as per the rules of the Roommate Agreement, he has to comply. Fed up with being told what to do, Leonard says that he is sick of the Roommate Agreement, as he is a roommate and not a chauffeur. Sheldon asks whether or not he wants to activate Clause 209, which will nullify their friendship. Leonard immediately signs so that he can head home to sleep.
At apartment 4A, Howard announces that he has some interesting news: the following week, he will be going to NASA orientation and zero-gravity elimination drills. Sheldon enters, greeting everyone as his "friend", except for Leonard, whom he addresses as "Dr. Hofstadter". They both exchange their greeting, which is a head jerk and "'Sup!" Sheldon apologizes for being late, and goes to sit next to Amy, saying that she will be the one to take him to the dentist the next day. Amy explains that she can't, as they're in the middle of an experiment in her lab. Bernadette points out that Howard never makes her do stuff for him. Sheldon struggles to find someone to take him to various places, and in the end, no one wants to give him a lift.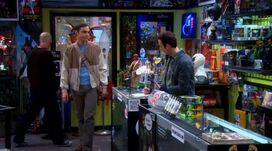 Desperate for a friend and transport, Sheldon heads to Stuart at the comic book store. As a smokescreen before dropping the big question on him, he asks Stuart about his family. He confirms that his mom and dad are alive, but his grandparents are not. Sheldon gives his condolences, and then moves on to a "cheerier note", telling Stuart about the teeth cleaning, and asks for a lift. Stuart declines, saying that he can't and that he really doesn't want to. Hurt, Sheldon leaves the store.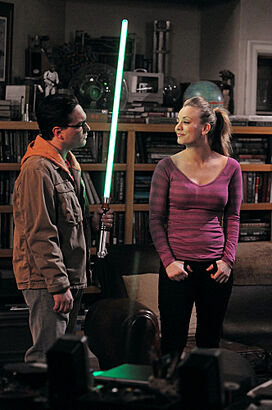 Back at the guys' apartment, Raj continues to try and get Howard to think of an astronaut nickname for himself. Howard declines most of Raj's suggestions, like "Buzz" and "Crash", and they finally find a suitable name: "Rocket Man". Leonard comments that it sounds pretty cool, but Howard persists that he can't choose his own nickname. They devise a plan to suggest the name to the astronauts. Howard has a Skype chat scheduled with astronaut Mike Massimino the following day, and during the chat, Raj will call Howard, who will set his ringtone to "Rocket Man" by Elton John, to plant the seed. Sheldon enters, and out of courtesy, Leonard asks him if he went to the dentist. Sheldon replies 'no', but says he found someone who can come over to his house to do it for him. Leonard offers to take him to different places, but he wants to do it as a friend, not because of a contract. Sheldon says that is not possible, and it would only work if the full Roommate Agreement is restored.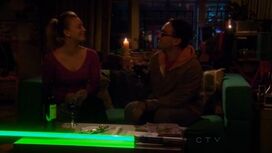 Leonard is watching television when the power suddenly goes off. Penny enters their apartment to see if their power also went out, worrying that it might just be her apartment. Sheldon enters, implementing the power outage drill, fetching some equipment from the cupboard. Penny suggests that Leonard come to her apartment because she has candles, as Sheldon does not want to share his Bunsen burner with Leonard. Sheldon comments that that is a fire hazard, and that glow sticks are more appropriate. Leonard fetches his Star Wars light saber, mocking Sheldon with it. Before he goes to Penny's apartment, Sheldon tries one last time to persuade him to reinstate the Roommate Agreement. Penny easily convinces him otherwise, and they leave.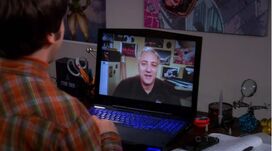 In Penny's apartment, Leonard and Penny share wine and pop bubble wrap. Penny suggests they make out, and Leonard quickly agrees. As they start, Sheldon bursts in, informing them that he'll be making s'mores, and that they should not be alerted if they smell marshmallows burning. Sheldon says that Leonard can join him, but only if he reinstates the Roommate Agreement. Leonard once again declines, and Sheldon leaves. Penny feels bad that Sheldon looks so sad, commenting that Sheldon misses his buddy, and suggests that Leonard go talk to him.
Leonard enters the room, commenting that he thought Sheldon believed that candles were dangerous. Sheldon informs him it's a Bunsen burner, and he knows how to use it, yet the marshmallow he's toasting is set on fire. Leonard goes on to say that he would be happy to help Sheldon, but at least wants some recognition and a "thank you". Sheldon counter-offers, saying that there could be a "Leonard's Day", where they celebrate him. The agreement is restored. Penny enters, and explains how the power went out: Someone went down to the basement and pulled the main circuit breaker switch. All eyes are on Sheldon.
At the Wolowitz house, Howard and Raj test to make sure his ringtone is set to "Rocket Man". Mrs. Wolowitz yells and asks when Howard will eat his breakfast. Howard yells back, saying he doesn't have time for that, and that he has a video chat with NASA. When astronaut Mike appears on the screen, he says the guys on the base calls him "Mass", the shortened version of his last name. Howard's phone goes off and plays his ringtone. Mike recognizes the tune, and asks about it. Howard says that it's his favorite song. A second after this, Mrs. Wolowitz yells to Howard that his Fruit Loops are getting soggy. Howard apologizes, and Mike then dubs him "Froot Loops".
Leonard: I am sick of The Roommate Agreement!
---
Sheldon: Are you saying that you want to invoke Clause 209? Clause 209 suspends our friendship.
Leonard: If it means I can go home and sleep, where do I sign?
---
Raj: Are you not looking at me? I am Brown Dynamite!
---
Sheldon: Uh oh! Hypothetical aftershock! (pushes Leonard on purpose)
Sheldon: That's why we wear hard hats.
---
Sheldon: We are now merely acquaintances. To amend the words of Toy Story, you have [not] got a friend in me!
---
Penny: Sheldon, that's not what girlfriends are for... Although, you don't use them for what they're for, so what do I know?
---
Sheldon: Put on your hard hat and safety vest.
Leonard: Oh, fun! I get to spend another night in front of our apartment dressed like one of the Village People.
Sheldon: Every 3 months, you make that joke, and I still don't get it.
---
Howard: This is going straight in my synagogue's newsletter.
---
Raj: Why did you put six sugars in your coffee?
Leonard: Because the cafeteria doesn't offer little packets of methamphetamine.
Howard: Emergency Drill Night last night, huh?
Leonard: Uh-huh!
Raj: Well, how did you do?
Sheldon: (coming in and sitting down at the table) I'll tell you exactly how he did. Readiness: unsatisfactory, follows direction: barely, attitude: a little too much. Overall, not only will he probably die in a fiery inferno, his incessant whining would most certainly spoil everyone else's day.
---
Sheldon: Dr. Hofstadter.
Leonard: 'Sup!
Sheldon: 'Sup!
---
Sheldon: (in a sing-song voice) Now, rise and shine, sleepyhead! Half the town is probably dead!
---
Leonard: I have to get a lock for that door.
---
Leonard:' Sheldon, Canada is not going to invade California.
Sheldon: Yeah, really? You think those hippies in Washington and Oregon can stop them?
---
Sheldon: Alright. An 8.2-magnitude earthquake devastates Pasadena, reducing minor edifices to dust, engulfing the city in flames, the streets flow with blood and echo with the cries of the wounded. Oh, excellent choice!
---
Sheldon: Two years ago, after a deep gum cleaning, I thought I got on a bus, but somehow wound up on a booze cruise to Mexico.
---
Leonard: You call that a glow stick? (pulls out his lightsaber) THAT is a glow stick.
---
Sheldon: Counter-proposal. We reinstate the full roommate agreement with the following addendum, in the spirit of Mother's Day or Father's Day, once a year, we set aside day to celebrate all your contributions to my life, both actual and imagined by you. We could call it Leonard's Day.
Leonard: I kind of like the sound of that.
Sheldon: Of course you do. It's about you, like everything else.
References
Edit