"The Hot Troll Deviation" is the fourth episode of the fourth season of the American sitcom The Big Bang Theory. This episode first aired on Thursday, October 14, 2010.[1]
Howard is embarrassed when a secret of why he broke up with Bernadette is revealed and Sheldon and Raj battle at work. Howard and Bernadette meet to discuss their relationship. Katee Sackhoff and George Takei guest star as Howard's love s.
Extended Plot
Edit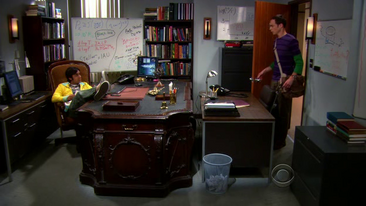 Sheldon and Raj are arguing about whether or not slow-moving particle would emit light. Sheldon thinks he's right and Raj calls him out on his arrogance. If Sheldon was a , he'd be Captain Arrogant. Sheldon prefers Dr. Arroganto. To get Raj to shut up he calls Penny over. Howard spots his old , Bernadette, and wants to play it cool and then crawls under the .
That in Howard's , he is in his burgundy on ready for . In pops Katee Sackhoff in her full "Battlestar Galactica" . She greets him and then sarcastically yearns for him. ("Oh ravish me, Howard. My ache for you.") Howard then looks over again and sees Bernadette in her ' . Fantasy Bernadette tells Howard that he must not yet be over her, to which Katee agrees. Howard confesses his confusion, and George Takei joins the . Katee asks if he has any interest which Howard denies. Katee and George leave talking about how not to be . Howard's mother starts yelling at him ending the 's activities.
The mystery surrounding why Howard and Bernadette broke up continues. Howard merely says it was something stupid. discussed include ing in bed and ing a . Raj wants a desk in Sheldon's Office and Sheldon doesn't have the funds, even though he can afford a glow-in-the-dark . Howard suggests that Raj buy his own and Sheldon doesn't have an argument to counter it.
Penny hears Sheldon knock and finds Howard at the with a recording of Sheldon. Howard asks her to talk to Bernadette to see if she'll agree to meet with him. She wants to know why he with Bernadette. He tells her, much to his embarrassment, that she caught him playing World of Warcraft and having with Glisinda the . Howard then lays on a that gets her to immediately call Bernadette.
Sheldon enters his to find Raj behind a gargantuan wooden that takes up most of the remaining room. Sheldon said that the desk was a "Brobdingnagian monstrosity" which Raj makes him continually repeat. Sheldon tells him to prepare for some escalating tit-for-tat exchanges. ("Well titted. Prepare for my upcoming tat!")
Bernadette and Howard meet at the Cheesecake Factory with Penny working nearby. She brings by and and then asks for them to for them. Bernadette was still mad. Howard was going because they weren't having sex. Bernadette replied that she wanted to, but he never made the move.
Later Howard learns from Leonard that Steve Patterson, the greasy old in , was Glissinda the Troll. They also Sheldon and Raj fighting with and s in their office.
At the end of a with Bernadette, they start to . Katee Sackhoff and George Takei are offering from the back seat. Katee tells him to go for it, while George says that a wants to be wooed. Howard makes the move, and Bernadette stops him. She needs to get to know him again before they . She is and tells him to be , because they'll get there.
Finally, in the between Sheldon and Raj, Sheldon mixing and gas to counter Raj's - scented s. Since the es are there is an leaving Raj a mess.
Costume Notes
Edit
Raj: I'm telling you, if emits , then those discoveries must be wrong!
Sheldon: Yes, well, if we lived in a world where slow moving Xenon produced light, then you'd be correct. Also, pigs would fly, my derriere would produce cotton candy, and the Phantom Menace would be a timeless classic.
Raj: You're so arrogant! If you were a superhero, your name would be Captain Arrogant. And you know what his superpower would be? Arrogance!
Sheldon: You're wrong again. If my superpower were arrogance, my name would be Doctor Arroganto.
---
Sheldon: Penny, a moment.
Penny: What?
Sheldon: Nothing, I just wanted Raj to stop talking.
(Raj tries to whisper something to Howard)
Howard: (To Raj) No, no, no, he won, suck it up.
---
Sheldon: This isn't a desk, this is a Brobdingnagian monstrosity!
Raj: Is that the American idiom for "giant big-ass desk"?
Sheldon: It's actually British.
---
Sheldon: Why do you even want this here? Its size is completely disproportionate to its purpose.
Raj: Well seeing as its purpose was to piss you off, I'd say it's spot on.
---
Sheldon: Alright, I see what's going on here. This is the opening salvo to what will be a escalating series of juvenile "tit for tat" exchanges. Well titted.
Raj: Thank you.
Sheldon: Stand by for my upcoming tat!
---
Leonard: Oh, God, what's that smell? (Knocks on Sheldon's door. Sheldon answers in a gas mask). Oh-ho-hop!
Sheldon: Yes?
Leonard: What are you doing in there?
Sheldon: I'm making hydrogen sulphide and ammonia gas. Just a little experiment in pest control.
Raj: It's not gonna work, dude, I grew up in India, an entire subcontinent where cows walk in the street, and nobody has ever had a solid bowel movement.
Sheldon: Well, we'll just see how long you can hold out.
Raj: Well, we'll just see how your noxious gas fares against my cinnamon-apple-scented aroma therapy candles.
Leonard: Didn't you say you're making hydrogen sulphide gas?
Sheldon: Yes.
Leonard: Isn't that flammable?
Sheldon: Highly. Oh, dear. (Explosion)
Raj: This is not over.
---
Katee Sackhoff: Kiss her good night. All right, now a little tongue.
George Takei: Hold on there. We've only just rekindled the romance. Let's not sully the moment with the exchange of saliva.
Katee Sackhoff: Don't listen to him. She wants it. Tongue. Luh-luh-luh-luh-luh. See? Now make the move.
George Takei: Mm-mmm. Too soon.
Katee Sackhoff: Trust me, she's ready. Make the move.
George Takei: No, no, no. A lady wants to be wooed, courted slowly.
Katee Sackhoff: How would you know?
George Takei: I read.
Cite error: <ref> tags exist, but no <references/> tag was found