Props seen in the kitchen include:
From the Pilot Episode:
Tea kettle: The set features a blue kettle for Season One, switching to an orange one starting in Season Two
The Cylon toaster is VERY hard to find, you're going to have to buy used or from a collector. They occasionally pop up on the online auction sites (click HERE to search eBay). The same model from the show can go for $200 or more in good condition, but similar models with slight differences can be had for $30 or $40.
Toaster oven (gets destroyed by the guys' battle robot in "The Killer Robot Instability")
From Season One, Episode 2: The Big Bran Hypothesis
Simple Human stainless steel step trash can

Sometimes WalMart has the smaller version for about $30, but it's out of stock a lot. Check local stores. In the previous episode, Sheldon threw away bottle caps into an unknown container under the sink.
From Season One, Episode 3: The Fuzzy Boots Corollary
From Season One, Episode 7: The Dumpling Paradox
From Season One, Episode 8: The Grasshopper Experiment
| | Appears on the counter to the left of the stove. |
| --- | --- |
From Season One, Episode 12: The Bat Jar Conjecture
Batman Cookie Jar by Vandor

Came out in 2004 in a limited edition of 3,600. Now only available used or from collectors. You can check eBay here.
From Season Two, Episode 2: The Codpiece Topology
Rubik's cube cookie jar (on far right of the counter)
From Season Three, Episode 14: The Einstein Approximation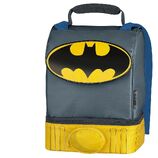 Batman Lunch Kit with Cape The authentic one is a hard to find collectible.  Expect to pay $75 or more for one in good shape or $30 to $40 used with broken zipper, etc. A cheaper, similar option is the  Batman lunch sack for around $30
From Later Episodes: 
Ad blocker interference detected!
Wikia is a free-to-use site that makes money from advertising. We have a modified experience for viewers using ad blockers

Wikia is not accessible if you've made further modifications. Remove the custom ad blocker rule(s) and the page will load as expected.