The Pancake Batter Anomaly
Comments

6
643pages on
this wiki
"The Pancake Batter Anomaly" is the eleventh episode of the first season of the American sitcom The Big Bang Theory. This episode first aired on March 31, 2008.
When Sheldon gets sick, Leonard quickly escapes from Sheldon's grasp, leaving Penny to take care of the needy Sheldon.
Extended Plot
Edit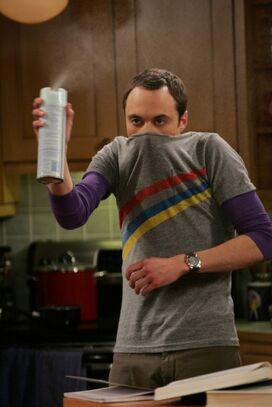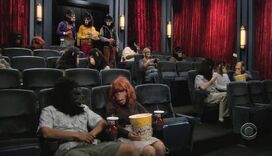 The episode opens with Leonard losing at Sheldon's hand in a game of 3-dimensional Chess. Penny has just returned from Nebraska and stops by for her mail, she adds "It was the worst trip. Everyone got sick over the weekend".
Sheldon being a mysophobe (a fear of germs), springs up, distances himself from Penny and starts spraying the area, as he is afraid he may catch a cold. Leonard quickly dismissed this as another one of Sheldon's overreactions. Later that night, Sheldon asks Leonard to place a measuring cup in the bathroom so Sheldon can measure his urine output to make sure his kidneys isn't shutting down. Leonard quickly becomes angry because he mixes pancake batter in that cup. After Sheldon proves to Leonard that the measuring cup was always used to measure urine, Leonard sarcastically says he owes the Betty Crocker company a letter of apology. By the next morning, Sheldon discovers he is sick.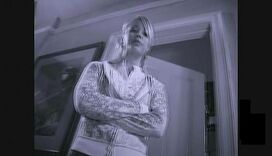 Leonard quickly mobilizes and dashes out of the apartment to avoid Sheldon. Leonard, Howard and Raj decide to go to a Planet Of The Apes movie marathon screening to lay low and avoid him. Meanwhile, at the Cheesecake Factory, Penny stumbles upon Sheldon, whose demands for soup terrorize the customers. At the screening, Leonard gets a call from Penny, who asks for his help with the Sheldon crisis, but he makes up an excuse preventing him from helping her, though he feels guilty about it. After Penny drops Sheldon off at his apartment after leaving work early, out of sympathy she gets pulled into taking care of him. He tells her that when he was a visiting The Pancake Batter Anomaly"
Even under the stress of illness, Sheldon retained his rapier wit sufficiently to crack a "physics funny". It's "common knowledge" from Physics 101 class that gases and plasma are also fluids, just like liquids, and make refreshing "virgin" drinks.
Technically, the applicability of a fluid approach for a collection of free particles (gases) lies in comparing the collisional mean free path () to the macroscopic length scale () of interest. For ionized gases, the subject goes by the name magnetohydrodynamics when the methods of continuum mechanics apply, and by plasma physics when they do not.
When Sheldon was trying to test if he was sick, he had to use a cultured food (dairy). Sheldon said "because SOMEONE polished off the apricot yogurt," implying that it was Leonard. However, Leonard is lactose intolerant, so either the yogurt was soy-based, the playwriters made a mistake, or Leonard did not actually eat it.
Bazinga !