The Relationship Agreement
Comments

19
783pages on
this wiki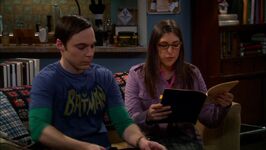 The Relationship Agreement is the 31-page contract Sheldon drew up after he and Amy became boyfriend and girlfriend.
When Amy first signed it in "The Flaming Spittoon Acquisition", she found signing it very romantic. By "The Spoiler Alert Segmentation" (S06E15) she called it a ridiculous contract just after Sheldon said that she couldn't move in with him. She also liked the fact that the agreement is binding.
Section 4: Booboos and ouchies - Amy must help Sheldon when he has a small injury (like a splinter).
Section 5: Hand Holding - Hand holding is only allowed under the following circumstances:
(Unstated sections)

Sheldon and Amy's Date Night is every second Thursday of the month and, in the case of there being five Thursdays in a month, Date Night will be on the third Thursday instead.
It is not specified whether it is in the agreement or not, but Sheldon and Amy have a "Girlfriend/Boyfriend Sing-Along Night".
Amy must give a 72-hour-notice to Sheldon in advance of a trip. Additionally, she must also check the tire pressure and call the Centers for Disease Control to ask which shots they would recommend for the trip.
On the two-year anniversary of their first date, they must go to a nice restaurant and hold conversation and have physical contact in a manner that onlookers would perceive as affectionate/intimate.
Separate sections on career changes, financial instability and what happens if there is an intelligent dog uprising. In the last one Sheldon and Amy plan to betray the human race.
Each part is also required to take care of the other when they are sick as in "The Fish Guts Displacement".