"The Roommate Transmogrification" is the twenty-fourth episode and final episode of the fourth season of the American sitcom The Big Bang Theory. This episode first aired on Thursday, May 19, 2011.[1]
After Bernadette receives a and gets a well-paying job, the guys make fun of Howard for now having a future wife with a Ph.D while still being the only non-doctor in their group (sans Penny). Meanwhile, Raj becomes Sheldon's new roommate and Leonard moves in with Priya in Raj's apartment.
Extended Plot
Edit
Leonard, Sheldon, Howard, Raj, and Priya are at The Cheesecake Factory. Bernadette comes by and announces she is getting her  and the others start to mock Howard about his lack of a Ph.D. and he claims he is not bothered.
At his apartment, Raj hears Leonard and Priya getting ready for fun with a Star Trek . He is troubled by these activities, leaves, and attempts to sleep at Howard's, but Mrs. Wolowitz and her make him uncomfortable.
Sheldon is ting with Amy when he hears a knock on his apartment door. It's Raj wanting to on Leonard's bed. Sheldon discourages it, but finally gives in and asks Raj to sign a and gives him a safety drill. The next morning, Leonard enters his room and sits on his bed; to his surprise he discovers Raj sleeping in it. Raj explains his predicament and asks why Leonard can't sleep with Priya at his apartment, but Leonard says that she doesn't get along with Sheldon. He suggests that until Priya gets her own place in , Raj can stay at Leonard's and vice versa. Raj asks if he can bring girls to Leonard's room, and he agrees because he believes that Raj can't score with a girl and as long as they are there on their own free will.
Later on, Raj gets , arranges it like a fancy dinner, and calls over Sheldon, who is amazed by the presentation. Penny comes over to ask if Sheldon changed his (the new one now being "pennygetyourownwifi"; no spaces), and she can't help but notice the fancy dinner presentation. Sheldon tells her that Raj has replaced Leonard temporarily and that Leonard is now living with Priya.
Howard and Bernadette
are in bed together and Bernadette tells him that she got him a present. He opens it and it to find an expensive , and after the teasing from his friends they begin to argue.
Back at the apartment, Sheldon, Penny, and Raj are drinking and having dinner together. After Sheldon leaves to go to bed, Penny continues to talk to Raj, revealing her true feelings for Leonard and admitting that she never should have broken up with him, leaving Raj a little sad. In an attempt to comfort her, Raj tells her that her life is better than his of every night.
Leonard and Priya are making out when her parents call her for a . Priya quickly asks him to go away so her parents don't spot him. Leonard overhears that Priya's moving back to , he feels betrayed and, in the spur of the moment, he reveals himself by telling Priya's parents that they are dating.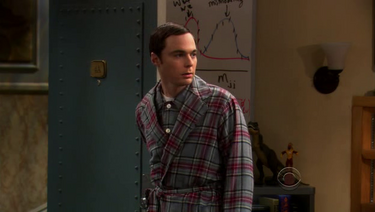 The next morning, Penny wakes up and finds herself nude in bed with Raj. She tells him to act as if this hook-up never happened, he just nods as he still can't speak to her sober, which annoys her. Sheldon wakes up and finds Leonard on the couch, moping about Priya leaving for India and breaking up with him. Howard arrives at the door as he had a big fight with Bernadette because of the watch. Suddenly, Penny does the "" out of Leonard's room with Raj close behind her, wrapped in a . She panics and says that "this is not what it looks like" and leaves. Sheldon then asks, "What does it look like?"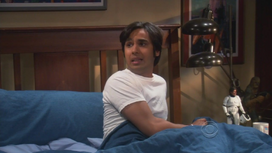 Raj: I'm the new homo in town. (realizes what he's just said) That came out wrong.
---
Penny: (to Priya about Leonard) Yeah, a little tip, he says he can eat , do not believe it!
---
(Raj arrives at the Wolowitz residence and rings the doorbell. Howard opens the door)
Howard: Hey, what's up?
Mrs. Wolowitz: IS THAT MY FUTURE DAUGHTER-IN-LAW, THE DOCTOR!?
Howard: NO, MOM, ITS RAJ!
Mrs. Wolowitz: HE'S A DOCTOR TOO, RIGHT?
Howard: YES!
Mrs. Wolowitz: LIKE LEONARD AND THAT SKINNY WEIRDO!?
Howard: SHELDON! YES, EVERYONE IS A DOCTOR BUT ME!
Mrs. Wolowitz: AND WHOSE FAULT IS THAT!?
---
Leonard: [finding Raj sleeping in his bed] What are you doing here?
Raj: I was sleeping!
Leonard: In my bed?!
Raj: Well, I would have slept in my own bed, but it was being used to bring shame to my family... and the memory of Gene Roddenberry!
---
(The scene of Howard and Bernadette's bedroom in their apartment)
'Howard: So do you know what kind of research you'll be doing at this pharmaceutical company?
Bernadette: Well, there are a couple of opportunities available, but I volunteered for the premature ejaculation project. I mean, it's not like either one of us has heart disease. Oh, I almost forgot. I got you a little present.
Howard: Oh, Bernie, no. You didn't have to.
Bernadette: I wanted to. Come on, open it.
Howard: You got me a Rolex. How much did it cost?
Bernadette: You just let me worry about money. (Howard looks up, realizing what she said) I just want my baby to have pretty things.
---
Penny: (In bed with Raj and horrified) OK, this never happened, do you understand??
(Raj just nods)
Penny: (Annoyed) Really!? Still can't talk to me!?
---
Penny: (entering room disheveled, with a half-naked Raj behind) Damn.
Leonard: What's going on?
Penny: Oh. It's, it's not what it looks like.
Sheldon: What does it look like?
References
Edit