"The Transporter Malfunction" is the twentieth episode of the fifth season of the American sitcom The Big Bang Theory. This episode first aired on March 29, 2012.[1]
Summary
Penny buys Sheldon and Leonard vintage collectible Star Trek transporter toys, but Sheldon accidentally breaks his when he tries to play with it. When he switches his with Leonard's, his conscience, in the form of his Spock action figure (voice of Leonard Nimoy), starts to get the better of him.
Extended Plot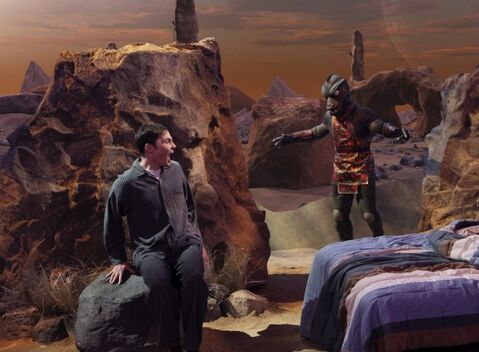 After Sheldon complains about Penny's constant mooching, she buys Leonard and Sheldon each a mint-condition vintage 1975 Star Trek transporter toy. She is disappointed when they both refuse to take them out of their boxes since they both wanted to preserve the toy's value. Sheldon has a dream that his Spock figure tells him that it is illogical to not use a toy that is meant to be played with. Sheldon opens his transporter and, while playing with it, it breaks. Changing his broken one for Leonard's, he figures Leonard will never find out since he doesn't plan to open his. Later, Sheldon has a nightmare where his Spock chastises him for switching the two toys. When Leonard decides to play with his toy, since it was a present from his girlfriend Penny and thus will never sell it, Sheldon's guilty conscience forces him to confess that he broke it and returns Leonard's transporter. He has trouble explaining himself, telling several stories each ending with "That's a lie."
Howard and Bernadette push Raj to send back his RSVP which he has not done due to him not having a date yet to the wedding. Desperate, Raj tells his parents to set him up with someone. He seems to hit it off with his prospective bride until he found out that she is gay. Thinking he is also gay, she is willing to enter into a lavender marriage (but which would really be a mixed-orientation marriage) to take the pressure off both of them to wed. To cheer him up, Howard and Bernadette buy him a female Yorkie puppy. Raj then comments if the puppy will fit in his 'man purse' which Bernadette comments 'metrosexual my ass'.
Critics
Notes
Trivia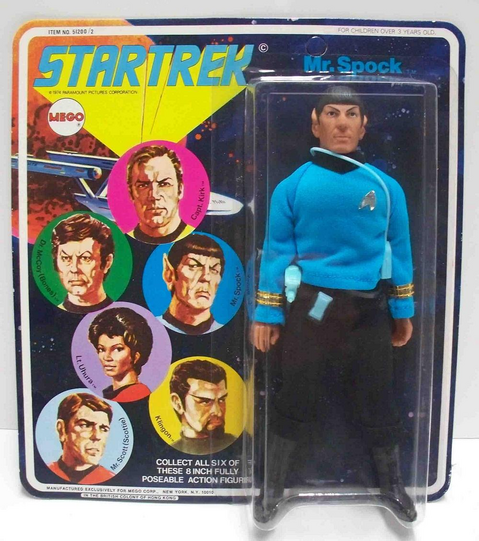 Quotes
Sheldon: Quantum physics makes me so happy.
Leonard: Yeah, I'm glad.
Sheldon: It's like looking at the universe naked.
---
Sheldon: I thought where you come from they don't have emotions.
Spock: I come from a factory in Taiwan.
---
Penny: Ta-da!
Sheldon: (Gasps) A vintage, mint-in-box, 1975, Mego Star Trek Transporter, with real transporter action. Hot darn!
Leonard: Where did you get that?
Penny: That's from Stuart at the comic book store.
Leonard: You went to the comic book store by yourself?
Penny: Yeah! It was fun. I walked in and two different guys got asthma attacks. Felt pretty good.
Sheldon: This calls for an expression of gratitude.
Penny: Ooh, am I about to get a rare Sheldon Cooper hug?
Sheldon: No, not this time, then it wouldn't be special. (makes a finger-gun gesture and clicks his tongue) Thanks, Penny!
Penny: You're welcome. (to Leonard) Don't worry, I didn't forget about you. Leonard, I got you... (takes something out from her shopping bag) a label maker!
Leonard: (looks stunned) Wow...oh, it's great. Also... in mint-in-box.
Penny: (takes something from her shopping bag) And I got you a transporter too!
Leonard: (throws away the label maker) Awesome!
---
Spock: Dr. Cooper! Dr. Cooper!
Sheldon: (looks around) Is someone there?
Spock: Down here, on your desk.
Sheldon: Spock?
Spock: I need to speak with you.
Sheldon: Fascinating! The only logical explanation is that, this is a dream.
Spock: It is not the only logical explanation. For example, you could be hallucinating after being hit on the head by say, a coconut.
Sheldon: Was I hit on the head by a coconut?
Spock: I'm not going to dignify that with a response. Now, to the matter at hand, you need to play with the transporter toy.
Sheldon: Yes, but it's mint-in-box.
Spock: Yes, and to open it would destroy its value. But remember like me, you also have a human-half.
Sheldon: Well I'm not going to dignify that with a response.
Spock: Consider this. What is the purpose of a toy?
Sheldon: To be played with.
Spock: Therefore, to not play with it would be?
Sheldon: Illogical. Oh, dammit Spock you're right! I'll do it!
Spock: Sheldon, wait. You have to wake up first.
Sheldon: Oh, of course. Set phasers to dumb, right?
---
Penny: Oh my God, I love this chicken!
Sheldon: You know what they say, 'Best things in life are free'.
---
Penny: What is the truth?
Sheldon: My Mr. Spock doll came to me in a dream and forced me to open it. And when the toy broke I switched it for yours. Later he encouraged me to do the right thing and I defied him. And then I was attacked by a Gorn.
Leonard: Okay, that I believe.
---
Spock: Fine. I will just use the teleporter. Oh, right. You broke it.
Video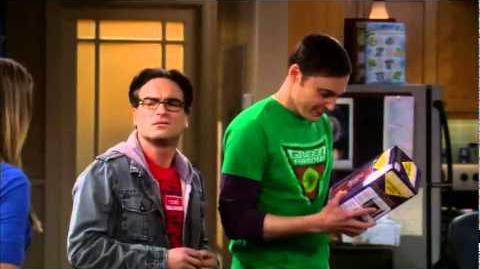 Gallery
References