Three-Person Chess
Comments

9
814pages on
this wiki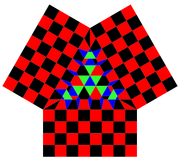 "Three-Person Chess" is a chess variant designed by Sheldon and featured in "The Wildebeest Implementation". The game utilizes a non-standard, three-sided board with transitional quadrilateral-to-triangular tessellation to solve the balanced center combat-area problem, additional (or fairy) pieces, and different rules for capture, move order, and game objective, etc.
Known pieces invented by Sheldon are:
Sheldon originally plays an unfinished version with imaginary replicas of himself. The final revised game is played by Sheldon, Leonard, and Howard, while Raj waits to play the two victors. In this match, Sheldon employs a catapult to fling his bishop to Howard's Queen's Gorilla two. Howard then moves his rook to a transporter pad and comes out at Leonard's Queen's Bishop five-and-a-third, placing Leonard in check. After Leonard inquires when a pawn is allowed to use the golf cart (to which Sheldon informs him when it's done charging or you land on the time machine, duh), Leonard moves his Beekeeper to King 12, capturing Sheldon's Pope and releasing a swarm for a checkmate on Sheldon. Disappointed, Sheldon wishes he had given his Pope a jet pack.
"Three-Player Chess" really does exist[1], but Sheldon's version is much more exaggerated.
"The Serpent" as chess piece: in Sir Terry Pratchett's Discworld fantasy series, there is Assassins' Chess, where  an extra piece, the Assassin, moves in a remarkably similar way with remarkably similar intent and may stab or poison the "client", or chesspiece on the receiving end.  The Assassin chess board also has unspecified extra squares and files called "slurks" (how they are organised is not clear) allowing for the Assassin pieces to move invisibly and pop up in unexpected places. 
References
Edit