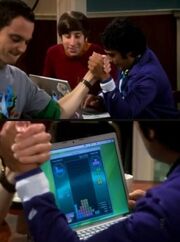 Trestling is a game that according to Howard "combines the physical strength of arm wrestling with the mental agility of "Tetris".
The game was played by Sheldon and Raj in the Season 1 episode The Peanut Reaction. In the game, players must play a game of Tetris with one hand while wresting with the other. The winner is the first to beat the other in either. The game played was declared a draw, as Penny asked them to stop causing a disturbance in The Cheesecake Factory.
Ad blocker interference detected!
Wikia is a free-to-use site that makes money from advertising. We have a modified experience for viewers using ad blockers

Wikia is not accessible if you've made further modifications. Remove the custom ad blocker rule(s) and the page will load as expected.