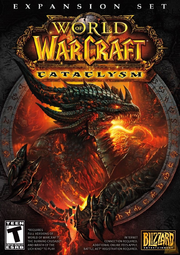 World of Warcraft (often abbreviated as WoW) is a massively multiplayer online role-playing game (MMORPG) by Blizzard Entertainment. It is the fourth released game set in the fantasy Warcraft universe, which was first introduced by Warcraft: Orcs & Humans in 1994. World of Warcraft takes place within the Warcraft world of Azeroth, approximately four years after the events at the conclusion of Blizzard's previous Warcraft release, Warcraft III: The Frozen Throne. Blizzard Entertainment announced World of Warcraft on September 2, 2001. The game was released on November 23, 2004, on the tenth anniversary of the Warcraft franchise.
Episodes
Ad blocker interference detected!
Wikia is a free-to-use site that makes money from advertising. We have a modified experience for viewers using ad blockers

Wikia is not accessible if you've made further modifications. Remove the custom ad blocker rule(s) and the page will load as expected.