Young Sheldon: First Look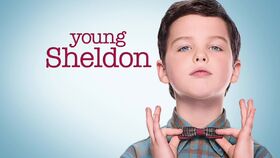 Young Sheldon is a prequel comedy series to The Big Bang Theory. It is created by Chuck Lorre and Steven Molaro. Its pilot episode debuted as a sneak preview on September 25, 2017 and will begin airing after The Big Bang Theory on Thursdays, beginning on November 2, 2017.
Plot
The series follows The Big Bang Theory's Sheldon Cooper at the age of 9, living with his family in East Texas and going to high school.
Overview
Jon Favreau is directing/executive producing the first episode of the series, which stars Iain Armitage as 9-year-old Sheldon Cooper, as well as Zoe Perry, Lance Barber, Raegan Revord and Montana Jordan.
Chuck Lorre, Steven Molaro, Jim Parsons and Todd Spiewak will serve as executive producers of the series, from Chuck Lorre Productions, Inc. in association with Warner Bros. Television.[1]
Jim Parsons narrates as the adult Sheldon.
This show will be filmed in single camera.
The trailer shows how Sheldon Cooper became who he is. He still had the arrogant, egotistical and narcissistic personality even when he was young. He still criticizes others and thinks he is superior to everyone else.
Sheldon was watching Professor Proton, when he was a kid. It was his inspiration to become a scientist.
Sheldon Cooper's timeline on the show starts from the fall of 1989, when he started high school at age 9.
Cast
Episodes
These are the first few episodes of Young Sheldon.[3]
Episode (Season/Ep#)

Title
Original Air Date
Directed By
Description
1.01
Pilot
2017
Jon Favreau
Unknown
1.02
Rockets, Communist, and the Dewey Decimal System
2017
Michael Zinberg
Unknown
1.03
Poker, Face and Eggs
2017
1.04
A Therapist, A Comic Book and A Breakfast Sausage
2017
1.05
A Solar Calculator, a Game Ball and a Cheerleader's Bosom
2017
1.06
2017
Unknown
1.07
2017-2018
Unknown
1.08
2017-2018
Unknown
1.09
2017-2018
Unknown
1.10
2018
Unknown
1.11
2018
Unknown
1.12
2018
Unknown
1.13
2018
Unknown
Production Notes
A sneak preview aired on September 25, 2017 at 8:30 p.m.[4]
Since Sheldon was born on February 26, 1980, and the series will follow Sheldon at age 9, that means the series takes place starting in 1989.

It is shown in the first trailer that it does take place in 1989.

This show will feature the first on screen appearances of Sheldon's father, George Cooper Sr. and older brother George Cooper Jr.
The show might reveal which one of the twins (Sheldon or Missy) is older.
Despite Sheldon stating that he went to college right after he finished the 5th grade at age 11, according to the trailer, Sheldon will be in high school at age 9.
It was picked up for a full season on September 25, 2017.
References
Ad blocker interference detected!
Wikia is a free-to-use site that makes money from advertising. We have a modified experience for viewers using ad blockers

Wikia is not accessible if you've made further modifications. Remove the custom ad blocker rule(s) and the page will load as expected.